June 05, 2011 -
Matt Bowen
Are the Steelers being 'targeted' by the NFL?
Let's get right to the point on this Sunday afternoon: the NFL is targeting the Pittsburgh Steelers defense. That is going to happen when you consistently finish off wide receivers and play with an intimidating style when the football is in the air.
And the new proposed rule changes for illegal hits are bad for NFL football—especially defenses that play with "controlled violence."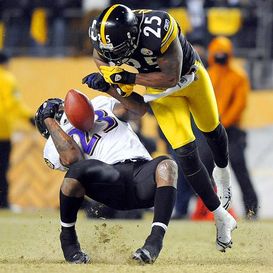 Ryan Clark and the rest of the Steelers defense will come to hit on Sundays.
I understand that Steelers chairman Dan Rooney has tried to slow down the idea that his club is the reason for the proposed rule that would impose fines (and possible lost draft picks) to an organization for repeated illegal hits.
But we should all see what is going on here with the league office and their threats to clean up Sunday afternoons as it applies to Pittsburgh. Use them as a model—or example—of what not to do with your headgear and shoulder pads on game day.
However, the Steelers style of play is the exact reason I look at them as a coach's dream.
Beyond the X's and Os of coordinator Dick LeBeau (that are still copied throughout the league) and the talent, I see a unit that plays with an attitude. That shows up on tape in every film room across the NFL and it forces offensive players to think twice about going across the middle of the field.
You are going to get hit when you play the Steelers. Harrison, Woodley, Clark, Polamalu, etc. Just a few of the names on this defense that come to the stadium ready to play physical football.
I'm not trying to stand behind cheap shots and intentional hits that are aimed to hurt an opposing player. Instead, this is about good, clean football. But with that comes some helmet-to-helmet contact and big hits that the league is trying to shut down. And there is no real way to fix that with the speed of the game.
But forcing a rule change because of the style of a defense isn't the right way to do it. Don't force a team to pullback when they are about to lower their pads on contact. Because it is part of the reason the Steelers are consistently one of the best units in the NFL.
Follow me on Twitter: MattBowen41