August 07, 2012 -
Matt Bowen
Are training camp fights overhyped?
Training camp fights are going to happen. That's a part of preseason football in the NFL. I went through them as a player and we are seeing them again this season with multiple teams.
However, are they becoming slightly overhyped?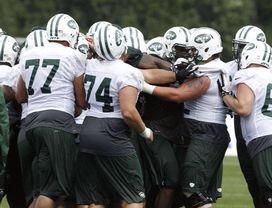 The Jets have experienced multiple fights on the field during their camp.
Even without the misery of two a day practices under the new CBA, the heat and humidity of the August sun is going to wear on these guys. And all it takes is for one player to go through the whistle or drop their helmet on contact and punches will be thrown.
The Jets have experienced a couple of fights during their training camp and head coach Rex Ryan has resorted to conditioning drills in an attempt to fix the "issue." Will it work? Maybe, if those players in New York grow tired of running sprints after a shoving match and a couple of quick jabs during a drill.
Think of it this way: players are tired right now at this point in camp. Their bodies hurt, they push through the daily grind of practice with heavy legs and a dull, almost constant headache follows them from lunch to meetings and back onto the field.
And when you are sore (and feel like vomiting at times), it doesn't take much to set you off as a player. Maybe it is a shove after one-on-ones, a rookie falling on the ground (constantly) during inside run drill or a DB that runs through a WR on a slant route.
Take any one of those situations and you could see both sides of the ball jumping in on the action.
But let's not read too much into these fights. They don't make a team better or worse nor do they speak to the "chemistry" of a locker room in August. That's fantasy land. Nothing to gain by trying to figure out the "impact" of a fight on the practice field.
In reality, these training camp brawls are pointless and suck the energy out of you as a player in the middle of a padded practice. Plus, coaches will scream and tell us how they don't like to see them in their camps.
But that won't prevent them from happening. Too much competition in an NFL camp for that.
Follow me on Twitter: @MattBowen41