May 03, 2011 -
Matt Bowen
Are we judging Cam Newton already?
When I was handed the St. Louis Rams defensive playbook during my first mini-camp as a rookie I immediately began to panic. New alignments, adjustments and an immense amount of X's and O's that read like a history textbook.
"What the hell is Cover 7," I remember saying to myself as I sat down in my hotel room out in Earth City, Missouri trying to take notes on something I didn't understand.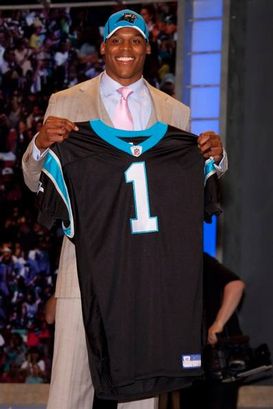 ICONCritics need to let Newton take a snap before they form an opinion.
Every rookie will do the same when they (eventually) get a hold of an NFL playbook—and Cam Newton is no different. It reads like a foreign language, starting with the first page.
I know there will be a high percentage of fans, coaches and active players in the league that are going to doubt his ability to transition to the NFL level under center, and that includes learning a pro style system. I have heard that multiple times throughout the draft process and even again yesterday.
"Can he do it?" seems to be the question surrounding a player that is loaded with talent.
I don't buy that or the public opinion that came out after Newton met with Jon Grduen for ESPN. We all remember when Cam told the ex-Bucs coach that his plays were labeled with numbers—nothing like the calls he is going to have to make in an NFL huddle.
However, check out this link to have a look at some of Auburn's pass concepts from smartfootball.com, a great website if you are in to the X's and O's of the game.
What are we seeing here? Smash-7, Hi-Lo concepts, etc. Yes, they are run from the shotgun due to the spread look of Gus Malzhan's system, but no different than lining up under center and throwing them on Sundays in the NFL.
Breaking down the concept to a number? So what, its college football and your job as a coach is to put your players in the best position to produce. If that means making the calls easier, then it works.
No different than playing in a Tampa 2 defense in the NFL—because that is as easy as it gets. No real adjustments to any pre-snap movement or exotic formations. Line up, drop to a landmark (for example, safeties drop to the top of the numbers) and play football.
My point here? All of these rookies are in for a very rude awakening when they are allowed back to NFL facilities across the league. Newton's learning curve will be a product of the coaching staff in Carolina. The same can be said for Jake Locker in Tennessee, Christian Ponder in Minnesota and Andy Dalton in Cincinnati.
They will all stumble across words in the huddle, throw picks in training camp (plus the regular season) and gradually learn how to produce at the pro level.
The criticism that he is already getting? Get real—because we can apply that to every single draft pick from Newton to Mr. Irrelevant. Every rook will struggle in their transition to the NFL. Busted coverages, missed assignments in pass protection, etc. You name and it will happen with rookies.
I understand that Newton will carry the weight of being No.1 overall. That is expected. And I can't predict the future on how productive he will be as a pro QB. But give the kid some time here. He hasn't even taken a snap.
Follow me on Twitter: MattBowen41