July 30, 2012 -
Matt Bowen
Bears camp: Breaking down Brandon Marshall
Over the weekend, I spent three days down in Bourbonnais at Bears training camp and it was easy to come away impressed with Brandon Marshall. From his technique to deep ball ability, here is what I wrote up on Chicago's new No.1 WR.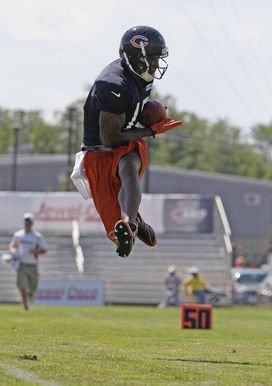 Marshall has been impressive in his first training camp with the Bears.
- The WR displayed speed coming out of his breaks on inside cuts and balance working back downhill on the comeback route.
- The ability to eat up a DB's cushion (distance between DB and WR) vs. off-man coverage. Press the DB up the field with speed (force him to open his hips) and break (between a depth of 12-15 yards). This is how WRs create separation to run the intermediate route tree.
- Marshall can get stuck when he chops down at the top of the route at times. That's going to happen with a player of his size (6-4, 230).
- Strength vs. press-man. On Saturday night during the Bears first padded practice, Marshall displayed power to work through press looks, plus use his hands and upper body strength to get into the route stem. Physical with very little wasted movement at the line.
- Sharp angles. Sounds simple, but this is a sign of a veteran WR. As I wrote on Alshon Jeffery in the Chicago Tribune, developing clean angles back to the ball is a key technique. It allows a WR to shield defenders on the curl and comeback (think leverage at the position). If you round your angle as a wide out, you are giving a DB the opportunity to break in front of the throw.
- His play making ability is top tier when he is asked to go get the ball. Think of the 9 (fade) route vs. man-coverage or the 7 (corner) route vs. Cover 2. It is obvious that QB Jay Cutler has trust in Marshall—even when he is covered. Cutler will give Marshall opportunities to finish the play.
- From a scheme perspective, offensive coordinator Mike Tice is using Marshall in a variety of alignments. The stack (two WRs close together), at the X, in the slot with Posse personnel (3WR-1TE-1RB) on the field, etc. And you are getting the entire route tree with the WR from those pre-snap alignments.
- Marshall is a long-strider. He isn't going to be as smooth as Devin Hester when you compare the two WRs in the base 3-step game or running the deep dig (square-in). But the speed (and acceleration to the ball) is there.
- The key for Cutler, Tice and the entire Bears offense is the vertical game. Marshall has solid technique, but no player is perfect. However, his the ability to stretch the field really stood out at camp. And that opens up the playbook.
Follow me on Twitter: @MattBowen41