March 13, 2012 -
Matt Bowen
Bears, Cutler get their No.1 WR in Brandon Marshall
All the talk about the Bears desperate need for a No.1 WR? New GM Phil Emery took care of that today when he traded for Dolphins WR Brandon Marshall.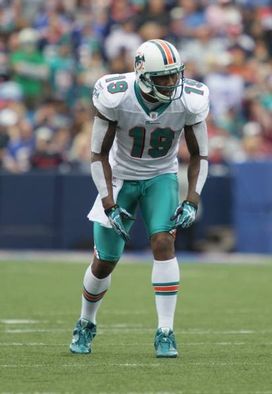 ICONThe Bears and Jay Cutler now have a true No.1 WR after trading for Brandon Marshall.
In a move first reported by Jay Glazer of Fox Sports, Chicago will send two third round picks (2012 and 2013) to Miami for the WR.
Looking at this deal, you have to like the value for the Bears. Two mid-round picks to land a legit No.1 WR and fill a major need? That's a solid move. Plus, there is history here with Marshall and Jay Cutler. Past production and big numbers when the two played together in Denver.
From a football perspective on the field, Cutler now has a receiver that is physical, can win at the line of scrimmage, run inside breaking routes and stretch the top of the defense. Production on 3rd downs, play action, the slant and fade on the goal line.
Think about it: a receiver that can go make a play for your franchise QB. And that sells when you want to flip the field, take a shot at the end zone or exploit a one-on-one matchup outside of the numbers. With Marshall, the Bears and Cutler have that flexibility to consistently challenge opposing secondaries.
This is a bold move (one that I didn't see coming) and it is also the right move for the Bears. Yes, they could have jumped into the race for Vincent Jackson or focused on some second tier options at the WR position in free agency.
But when it comes to adding a top tier veteran talent at WR, Marshall fits exactly what the Bears were looking for. Up next? Add more depth at the WR position through the draft and continue to build around your QB. That is how you develop an offense.
Bottom line in Chicago: the Bears just added an immediate upgrade.
Follow me on Twitter: @MattBowen41