May 14, 2012 -
Matt Bowen
Bears have options in the route tree with Jeffery
Throughout the draft process, I talked about inside breaking routes with WR Alshon Jeffery. Create leverage on the release, stem the route up the field and then break back inside of the numbers—using size to create some separation.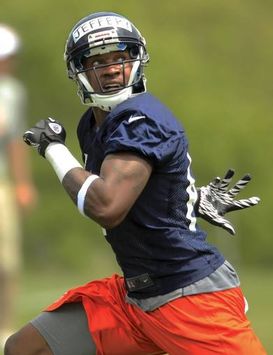 Alshon Jeffery showcased his skill set at Bears rookie mini-camp this weekend.
But after watching Jeffery practice on Friday at Halas Hall here in Chicago, I think the Bears have multiple options within the route tree to get the wide out the football.
I could see the talent with Jeffery. I broke that down over the weekend in the Chicago Tribune. Vertical speed, solid footwork coming out of his cuts and ball skills when he plays the pass at the highest point. His technique isn't perfect yet, but he was impressive for a rookie.
Watching the South Carolina product go through drills (and one-on-ones), there is no question Jeffery has the overall skill set to compete at the NFL level. Plus, he looks lean and athletic with that 6-3 frame. That's NFL size for the position.
That brings me back to the route tree in Chicago. I talked about inside breaking routes above (slant, dig, post, etc.). And let's also throw in the deep comeback, 7 (corner) route from an inside alignment (think No.2 WR inside of the numbers) and the out route (top of the numbers alignment). And those "alignments" are crucial from an offensive perspective. Move Jeffery and get him in a pre-snap look that matches up to personnel and scheme.
Plus, you can never forget about the 9 (fade) route vs. a press look (Cover 1, Cover 0) or a deep half safety (Cover 2) that has to get off the numbers. Or throw the 1-step fade inside of the 5-yard line. Put the ball out there and allow the rookie to go finish the play.
Talking with Bears personnel, this is what QB Jay Cutler wanted. Another WR (along with veteran Brandon Marshall) that can go up and get the football.
Like any rookie at the position, Jeffery needs some time working vs. press-coverage (in pads) and his overall route running has to be developed to meet pro standards. I'm not going to tell you he is game ready after one mini-camp in shorts. He hasn't even seen veteran NFL competition.
However, if Jeffery can continue to develop under pro coaching, the Bears could have some real options in the game plan. And there are a number of routes that will lead to production.
Follow me on Twitter: @MattBowen41