October 07, 2010 -
Matt Bowen
Bears make the right call shutting down Cutler
From a competitive standpoint—and a game plan standpoint—shutting QB Jay Cutler down for this weekend's game at Carolina will hurt Chicago. No question about that. But, we will get to that tomorrow when I post my Week 5 tip sheet.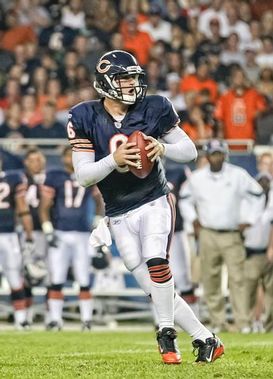 ICONCutler will sit this Sunday when the Bears travel to Carolina.
For today, we should applaud the Bears for making this call. Concussions are no joke, and although they have been a big topic of discussion this season in the NFL, until we see a club sit that player down—completely—there isn't a solution. I had multiple concussions during my career, and I talked about this in a column over at the Chicago Tribune a couple of weeks back. I came back and played the following week in the 2003 season after suffering a black out concussion—complete with amnesia—and I felt the impact on that field. Hit Steve Smith on a post route in Carolina and laid on the ground--again.
Stupid move? Of course, now, looking back on it. Being retired makes you think that way. But, for current players, taking the proper course of action after a head injury, and after a game like Cutler had Sunday night in the loss to the Giants is the smart move—and the only move the Bears should make this Sunday.
Todd Collins will take over the Bears' huddle and the game plan on Sunday. That's fine, no different than stepping in for a player who can't go because of a knee, and ankle or a shoulder. We have to understand that.
With concussions, you have to sit the player down. Just like Andy Reid did with Kevin Kolb. Unlike that knee or ankle, you can't fix your head. There is no treatment, no medicine, just time to wait. I do see Cutler as one of the toughest players at the position in the NFL. But, those hits add up. You need that QB for the rest of the season and into the future.
And that is exactly what the Bears are doing with their franchise QB.
Follow me on Twitter: MattBowen41
Want to work in the NFL? Click here to register for the NFP's "Chalk Talk" seminar in Chicago on October 22nd.