April 10, 2012 -
Matt Bowen
Bears want more from Hester? Then align him in the slot
As the Chicago Tribune's Vaughn McClure wrote today, the Bears could be looking to give WR Devin Hester a larger role in the offensive game plan. And that would mean limiting his duties as a kick returner (a possibility for Chicago with FA pickups Devin Thomas and Eric Weems).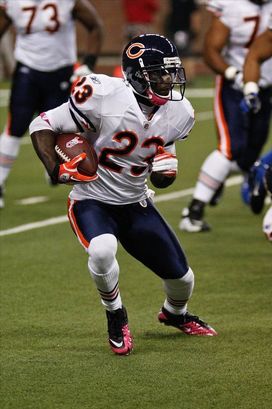 ICONBecause of his skill set, Devin Hester is an ideal fit to play inside of the numbers.
I get it. Hester would still be the primary return man in the punt game, but when you add special teams talent in Thomas and Weems (on top of the lack of returns with the ball being kicked from the 35-yard line), the Bears can reduce his workload on kickoffs.
Sounds good and looks good in early April. Get Hester more involved in the offense.
However, from my perspective, if you want to see Hester produce in the passing game, then let him run the short to intermediate route tree inside of the numbers.
Here's what you will see from Hester in a practice setting (or during individual period in camp): speed off the release, a burst out of his cuts and dynamic lateral ability in one-on-one sessions. He looks the part of a player you don't want to match up with in the open field.
But that hasn't translated to true production when he is aligned outside of the numbers. CBs can get their hands on Hester, ride him into the boundary and force him to widen his release.
An occasional deep ball (think fade or post), but not enough to make opposing defensive coordinators worry when they turn on the tape.
Fix that. That should be the goal of new offensive coordinator Mike Tice. Move Hester in his pre-snap alignment, use motion, bunch or stack looks and target him inside of the numbers—where he can use that lateral movement to win matchups.
Talk to any DB in the NFL and they will tell you that playing the nickel (or dime) role in sub packages is tough. It allows the WR a "two-way go" (inside or outside release) and the ability to play off your leverage on a basic option route.
GM Phil Emery made the right call to go get Brandon Marshall from Miami and the Bears might not be done adding talent at the WR position depending on the prospects they target in the upcoming draft.
Will Hester fit with Marshall? Of course, and he should see more on-on-one matchups because of it. But the real prodcution will come if the Bears utilize his skill set in the middle of the field.
Follow me on Twitter: @MattBowen41