August 10, 2012 -
Matt Bowen
Bears-Broncos game notes
Watching the Bears-Broncos matchup last night, I focused more on personnel in a game that resembled a scrimmage at times. Very little work for the starters and a group of key Bears veterans that didn't even see the field. Here are my notes on three players: Peyton Manning, Shea McClellin and Alshon Jeffery.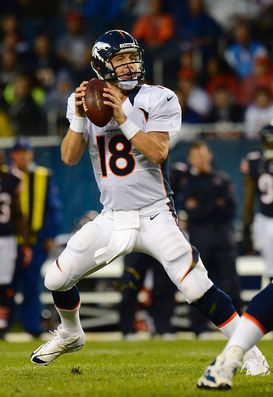 US PRESSWIREManning displayed a quick release throwing the ball last night for the Broncos.
Manning: Manning looked comfortable in the pocket throwing the comeback vs. Cover 1 (man-free), working the underneath option game and setting his feet to hit the deep dig route vs. Cover 2. The INT? That's a timing issue from my perspective in the red zone. You put the ball on the back shoudler on the inside Smash route and someone in the secondary is going to make a play. I would have liked to see Manning throw the vertical route tree, but this is the preseason. And with that comes base route concepts and limited game planning. He wasn't perfect, but the Broncos QB showed a quick release throwing the football in his first action back on the field. That's a positive sign this early in August.
McClellin: Typical night for a rookie DE in his first preseason game. McClellin displayed a quick get off at the line of scrimmage, the ability to turn the corner on the edge and true closing speed to pick up a sack. But there are some issues to correct. The Bears rookie needs to lower his pad level, show more strength (plus power) at the point of attack and continue to work on setting up the OT once he gets up the field on the rush. I thought McClellin played hard and this will be a good tape for the DE to watch.
Jeffery: The WR was active, saw plenty of targets and had oppporunites to work his release vs. both press and off-man coverage. You want Jeffery to be more active with his hands vs. press looks and come back to the football on inside cuts with a sharper angle, but he did some good things vs. the Broncos. The Bears didn't use their stack alignments or vertical route combinations (Flat-7, Smash-Seam) that I have seen down at camp, so last night was more about fundamental skills for the rookie within the route and at the top of the stem. Remember, two things you should always look for with rookie wide outs: the ability to beat press and create separation in the route. Those are key moving forward for Jeffery throughout the preseason.
Follow me on Twitter: @MattBowen41