November 07, 2011 -
Matt Bowen
Bears-Eagles: three things to watch
As we wait for kickoff in Philadelphia, here are three things I am looking for in the Bears-Eagles matchup. A crucial NFC game for both clubs on the Monday night stage.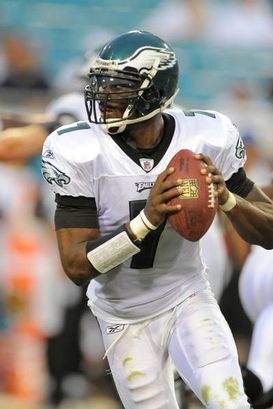 ICONIf the Bears want to limit Vick, their front four rush has to produce when they play Cover 2 in the secondary.
1. Vick's production: Why has Lovie Smith had success vs. Vick in the past? A front four rush that gets home while dropping seven into coverage—and all of them have their eyes on the QB. Force the QB to thread the ball into tight windows while your underneath defenders play with depth and take away the intermediate route tree. It is a simple plan when we talk Cover 2, but the consistent pressure has to come from DE Julius Peppers and 3 technique (DT) Henry Melton. Rush with contain principles and force Vick to throw the inside breaking routes on Andy Reid's playbook with pressure at his feet.
2. DeSean Jackson vs. the Bears' secondary: The key for Chicago is formation recognition. Know where Jackson is on the field, understand WR splits, pre-snap motion, etc. The Eagles will move Jackson to get him a free release vs. the Bears Cover 2 looks, and when is aligned out of position, look for him to be a target. The Bears have to play with leverage in their Cover 1 and zone pressure schemes and keep a top on the defense in Cover 2 vs. the speed of Jackson. Will we see the deep ball early tonight? That's my plan if I am calling plays for Philly.
3. Protecting Cutler: I expect the Bears' offensive game plan to center around Matt Forte, but don't let that discount the importance of picking up some explosive plays. The deep dig (square in), the OVS (9-7-flat), 4 verticals, etc. The Eagles want to use the "wide 9" technique to shorten the edge with DEs Jason Babin and Trent Cole. Get off the ball and challenge the Bears offensive tackles in their technique and footwork. Does that mean Mike Martz uses some max protection (8-man protection)? Possible, because the Bears have to keep Cutler off the ground if he want to work the top of the route tree.
Follow me on Twitter: @MattBowen41