August 25, 2012 -
Matt Bowen
Bears-Giants notes
After watching the Bears-Giants preseason matchup tonight, here are five things that stood out from my perspective. Let's run through my notes…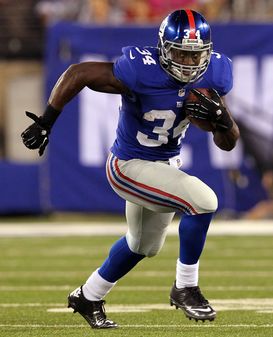 US PRESSWIREGiants' rookie RB David Wilson displayed his speed and the ability to finish runs vs. the Bears.
1. Rookie David Wilson: The RB out of Virginia Tech has legit speed when he gets his pads square to the line of scrimmage and I love seeing backs that lower their pad level on contact to finish runs. The rookie runs hard. That's evident when you watch him play. The next step? Become a complete player at the position and show the coaching staff he can be accountable in pass pro picking up blitz schemes. But in terms of looking at Wilson's running style and the ability to press the ball to the second level of the defense, I was impressed.
2. Brandon Marshall: The TD Marshall caught? A 9 (fade) route vs. Cover 2 (off a free release) that I broke down on the chalkboard at the Chicago Tribune. However, don't forget about the underneath schemes. I'm talking about the curl, slant and the underneath "Smash" concept that we saw tonight. Again, with his size (and ability to win at the line of scrimmage) this is key for Cutler and the Bears when they need to move the sticks or beat pressure.
3. Eli Manning's control of the offense: Work the middle of the field, throw deep inside breaking concepts vs. Tampa 2, beat Cover 1 (man-free), take the check down, etc. Manning had rhythm to his game. That's the best way to describe the Giants' QB tonight. He had control of the offense, targeted coverage schemes, produced points and left the field healthy. Exactly what you want from your No.1 QB in August.
4. Bears' O-Line: The discussion in Chicago is going to focus on the LT position. That's understandable as the Bears continue to look for an answer. Both J'Marcus Webb and Chris Williams made some obvious errors, but overall, the pass pro for the Bears' unit was better than I expected. The issue tonight: New York won up front—consistently—in the run game. Mike Tice's offense has not run the ball with enough production this summer and that was the story again. To win at the line of scrimmage vs. the Giants, you have to be physical and technique sound. And I didn't see enough of that.
5. Tillman vs. Barden: Two routes you get deep in the red zone: slant and fade. The Giants' WR beat Tillman on the slant route because of his release, stem and break. When you can force a DB to open his hips (as Barden did by stemming to the fade) that's an automatic win on the inside slant. The second time around, Tillman stopped his feet (or "squatted") and had to grab the WR (drawing a flag) as he went vertical on the fade. Think technique here, because that's why Barden was able to beat the veteran CB twice in one-on-one matchups.
Follow me on Twitter: @MattBowen41