October 10, 2011 -
Matt Bowen
Bears-Lions: Five things to watch tonight
Let's talk Bears-Lions as we lead up to kickoff tonight at Ford Field in Detroit. Five things to watch for on Monday Night Football.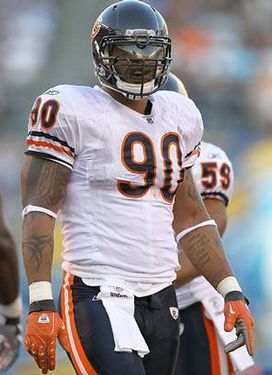 The Bears need to see production from Peppers when they play Cover 2 tonight.
1. Peppers off the edge: The Bears need their DE to play at a Pro Bowl level. If you want to drop seven into coverage, gets hands on WR Calvin Johnson at the line of scrimmage and play Cover 2, then pressure has to come from the front four. Peppers will be matched up vs. LT Jeff Backus—and the DE has to win consistently tonight to force the ball to come out. If the Bears allow Matthew Stafford time to throw, it will tough to get off the field.
2. Lions' run game: Detroit can move the ball vertically down the field with Stafford in the passing game, but what are we going to see from Jahvid Best? This Bears defense has struggled in their last two games playing the run with a 7-man front and they will over pursue to the football. Could be some cut back running lanes for Best tonight.
3. Tillman, Jennings vs. Johnson: The Lions' WR will see some one-on-one matchups outside the numbers when the Bears use their zone and man blitz concepts. With the Chicago CBs coached to play with hard, outside leverage, expect Johnson to run some deep inside breaking routes (dig, skinny post) vs. single high safety looks. Plus, when the ball gets inside of the 10-yard line, you know what is coming: the one-step fade route.
4. Cutler and the 3-step game: Ball has to come out quick vs. Ndamukong Suh, Kyle Vanden Bosch, etc. Working behind this Bears' O-Line, look for Martz to feature the quick, 3-step passing game. However, Chicago needs to get some production on the slant, option route and the Hi-Lo crossers from Hester, Knox and Roy Williams. No question RB Matt Forte needs to be featured in the game plan, but the Bears will have to open up the offense to move the sticks vs. the Lions' defensive front.
5. Special teams: Game plans don't change much when you play a divisional opponent. Instead it is about personnel and big plays. Can the Bears generate field position in the return game with Devin Hester and what do we see out of the Lions and Stefan Logan on special teams? In a Monday night atmosphere, don't forget about the kicking game. A turnover or a score here could be the difference.
Follow me on Twitter: MattBowen41