December 25, 2011 -
Matt Bowen
Bears-Packers: What to watch for tonight
Let's look ahead to tonight's Bears-Packers Christmas matchup at Lambeau. Here are three things to keep an eye on as Green Bay tries to lock up the No.1 seed in the NFC.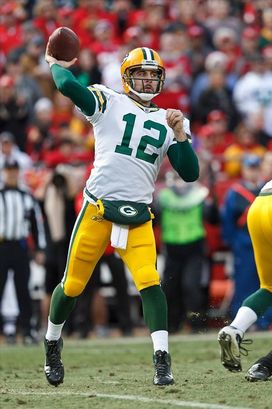 ICONRodgers should see plenty of Cover 2 from the Bears' defense tonight.
1. Rodgers vs. Cover 2: We know the routes to beat Cover 2: Flat-7 (corner), 4 verticals, Double China- 7, OVS (fade, corner, flat), etc. However, I am looking at this in terms of matchups. TE Jermichael Finley down the middle of the field vs. MLB Brian Urlacher, targeting the deep half safeties and play action inside of the red zone. Plus, we have to discuss the beat up Packers' O-Line. The Bears want to rush four and drop seven into coverage. And if you want to do that vs. the Green Bay QB, there must be pressure from Julius Peppers off the edge. The Packers might have to use some six and seven-man protection schemes that give Rodgers time to go to work on Chicago's Cover 2 scheme.
2. McCown gets the start: First start forJosh McCown since the '07 season. I would expect the Bears to try and establish some sense of a run game with backup Kalil Bell and use the Hi-Lo concepts on third and short to medium. But where does that explosive play come from and can McCown challenge Woodson, Williams, etc. in the Packers' secondary? If Chicago wants to hang in this game and try to steal a win up at Lambeau, McCown will have to test the top of the Green Bay defense. Look for field position (ball in-between the 40's) and hard play action to sell the vertical route tree.
3. Packers' defensive game plan: I would go after McCown early tonight. Give him multiple looks up front, disguise coverages and bring safety pressure to force the ball out. Mix in some coverage on third and long situations (2-Man), but lead with pressure at the top of the game plan. With Johnny Knox out of the line up and limited production from Devin Hester due to an ankle injury, this is the type of situation where DBs can take some risk and go make some plays vs. McCown. Let's see what Packers' DC Dom Capers rolls out tonight.
Follow me on Twitter: @MattBowen41