December 16, 2010 -
Matt Bowen
Bears-Vikings doesn't add up at TCF Bank Stadium
I'm not surprised that some players from the Vikings and the Bears are starting to speak out on Monday night's venue at TCF Bank Stadium on the campus of the University of Minnesota. And that's why we should talk about player safety.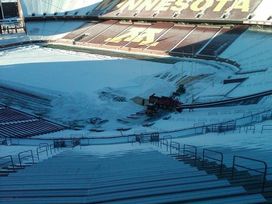 A snow covered TCF Bank Stadium in Minneapolis.
The question the NFL has to ask is simple: is it worth it? Does the league need to put players from both clubs on a surface that is going to lead to injury, and, in reality, a bad brand of football on the national stage of ESPN? Footing is going to be terrible on a field covered with ice. And, if the game does go down in Minneapolis, don't be surprised to see players in old school turf shoes—or sneakers. Because you can't wear cleats on frozen turf.
The easy way out? Move the game and change the venue completely. Go to the Georgia Dome in Atlanta, Lucas Oil Field in Indianapolis or even back to Ford Field in Detroit. Yes, it will be a preseason atmosphere for both clubs, but that is what you get when the <a href="http://footballpost.wpengine.com/Another-roof-panel-collapses-at-Metrodome.html" target="_self">Metrodome falls apart. It is outdated and it needed to be upgraded back when I was playing against the Gophers during the mid-90's as an Iowa Hawkeye. It is—without a doubt—the worst stadium I played in during my career as a pro.
The bottom line for the NFL is protecting the players. Sure, we want to see quality football on Monday night, but the league is responsible for assuring player safety in their games and on their fields. I know that I wouldn't want to play on that field, regardless of what they do to "prepare" it for Monday night. Imagine going up for a ball and coming down on the back of your helmet? Or, what about planting that outside foot and trying to make a cut? Knees, ankles, etc. The game is violent enough on a clean surface. I understand that we see weather all of the time at Lambeau or in Chicago, New England, New York, etc. But those fields are made for pro games and are heated underneath.
Not at TCF Bank Stadium. It is a great college stadium—made for football in November. This will be very similar to getting into full gear and playing in a parking lot covered with snow. That's not NFL quality. Time for the league to step up and make the call--and protect the players at all cost.
Follow me on Twitter: MattBowen41