July 26, 2011 -
Matt Bowen
Bengals making the right decision with Palmer?
According to a report from Joe Reedy over at Cincinnati.com , Bengals owner Mike Brown has announced that he will stand firm on his stance towards Carson Palmer, stating the QB will not be traded. And when a NFL owner says, "I wish him well and he has retired," I wouldn't expect to see Palmer landing anywhere else in the league.
However, is this the right move for the future of this ballclub? Let's take a look at it from two different aspects…
Don't let the locker room run the team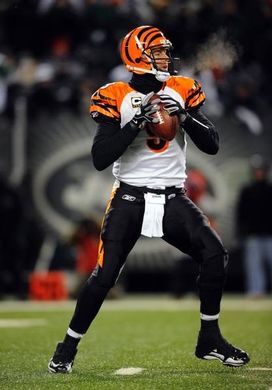 ICONAre the Bengals making the right decision with veteran QB Carson Palmer?
No owner, GM or coach wants the players to run the team. That has been the model of every club I played on in the NFL. If a guy wants out, you can't cave and give in to his demands. Why? Because that shows the locker room that you can complain (usually via the media) and get out of town. Break the contract agreement and move onto to a situation that is more beneficial to your career.
That idea is a big seller to players, but you can't allow it to happen if you are running an NFL team—because it can get out of control. Before you know it, every player that wants to play for a playoff contender (or get new money) will be knocking on the owner's door asking for a plane ticket.
Get value in return for Palmer on the trade market
From a football standpoint on the field, I do see Palmer having solid value if Brown and the team were willing to move him. Think of the two hot names at the QB position right now: Kevin Kolb and Kyle Orton. Can we put Palmer on the same level—or above—than both players in terms of overall value? I think so.
Think of it this way: the Bengals drafted Andy Dalton at the top of the second-round. He is the future at the position for Cincinnati. Why not get something in return for the veteran QB that is essentially being replaced? I can think of teams in the Seahawks, Cardinals, Titans, Dolphins and Vikings that could possibly put together an offer to bring Palmer into town—because he can still play at a high level.
Again, there are always two sides to personnel moves in the NFL—especially in Cincinnati right now. Time to hand over the playbook to Dalton? Sounds like it.
Follow me on Twitter: MattBowen41