September 10, 2012 -
Matt Bowen
Bengals-Ravens: Breaking down Flacco
I want to focus on Joe Flacco after watching the Ravens run it up on the Bengals. The no-huddle, boot game, play pass, vertical concepts, etc. A smart game plan game plan from Baltimore that led to production at the QB position. Let's take an Xs and Os look at three big throws from Flacco...
Double Post
Posse Personnel (3WR-1TE-1RB)
"Doubles" alignment (2x2)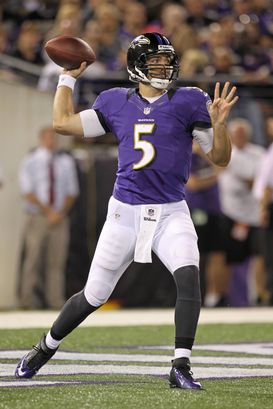 US PRESSWIREFlacco threw for 299-yards and 2 TDs in the Ravens 44-13 win over the Bengals.
Open (weak) side run action vs. pressure. What we see here is the double post with WR Torrey Smith pressing his release vertically up the field and creating separation throughout the stem to stack on top of CB Leon Hall. Inside breaking route vs. a defender playing with an outside shade. That' exactly what you want in this situation, but the throw has to be to the middle of the field and away from the defender. Leave it short or hang this ball to the backs shoulder and you give the CB time to recover. This is solid ball placement from Flacco.
Pump-Seam
Posse Personnel (3WR-1TE-1RB)
"Doubles Slot" alignment (3x1)
Ideal concept to run vs. a single-high safety look in the "high red zone" (20-35 yard line). Flacco pumps to the open side of the formation ("sluggo" route) and comes back to the inside vertical seam to Anquan Boldin for the TD. The key is to move the FS. When you can force the safety to open his hips and break to the open side of the formation, this creates a clear throwing lane on the seam route. Solid execution from the Ravens and a nice ball here again from Flacco.
Double Smash-7/Seam
Posse Personnel (3WR-1TE-1RB)
Empty alignment
The Bengals brought Cover 0 pressure (blitz-man with no safety help) in this red zone situation. The route concept? Something we see every week in the NFL: inside 7 (corner) routes with both No.1 receivers on the underneath Smash concept. However, we want to focus on the seam from Dennis Pitta. The Ravens' TE wins at the line of scrimmage and puts Hall in a "trail" position. Because of that, Flacco can put some air under this ball and allow his TE to go climb the ladder and get it. And from the perspective of a DB in coverage, there is no other option than to "play the pocket" (play up through the hands of the receiver) and try to break this pass up. Tough spot for Hall to be in and another solid throw from Flacco vs. pressure.
Follow me on Twitter: @MattBowen41