August 10, 2012 -
Matt Bowen
Benson and the Packers?
The Packers interest in RB Cedric Benson is intriguing because it creates some questions from my perspective.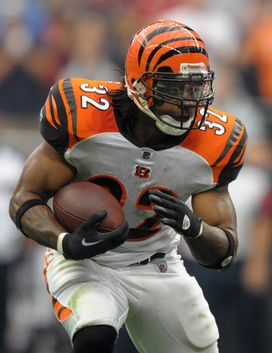 US PRESSWIREAccording to ESPN, Cedric Benson is expected to sign with the Packers.
Is there something Green Bay has seen in camp with their current depth at the position? Do they want more competition? What about the preseason opener this past Thursday night in San Diego? I know No.1 RB James Starks put the ball on the ground, but does that cause GM Ted Thompson to go out and find veteran help?
And why not Ryan Grant? The former Packers' RB is still looking for work as a free agent. If you are going to make a move, bringing back a guy who has played (and produced) in the offense makes some sense.
That's why I was surprised this afernoon when ESPN's Chris Mortensen reported that Benson was in Green Bay and expected to sign a deal.
Even with his off the field concerns, Benson has produced three straight 1,000-yard seasons in this league. Not a prime target in the passing game, the veteran is a downhill runner that can press the line of scrimmage, run between the tackles and arrive with some power on contact. We aren't talking about bringing in a "camp body" to fill the roster here.
I know what the Packers have outside of the numbers at the skill positions. The best group of talent you will find in the league along with the top QB in Aaron Rodgers. That's not an issue and I would personally love to coach that offense. Just think about game planning with those targets in the route tree.
But, what about the run game? Is this a case of Green Bay looking for a back that can close out a game in the 4-minute drill, move the sticks in crucial situations, carry the ball inside of the 10-yard line?
Because for as much as we talk about this being a "passing league," you still have to run the ball with production in specific game situations to win in the post season.
I understand the Packers are young and inexperienced on that depth chart behind Starks at the RB position, but I'm still trying to figure this one out. No guarantees Benson would be on the opening day roster, but if a guy is brought in off the streets during the preseason with a solid NFL resume, he is coming to town for a reason.
Follow me on Twitter: @MattBowen41