July 05, 2012 -
Matt Bowen
Breaking down a '3-Man' rush scheme I trust
Click here for the entire Inside the Playbook series.
Click here for a zone blitz out of the "Ruby" front.
If you ask NFL fans their opinion on rushing three and dropping eight into coverage, the responses are most likely going to be negative. Too much time for the QB, a "soft" pocket, WRs that can convert routes past the sticks, etc. etc. I get it. When you rush three, you are allowing a QB time to move in the pocket, look off safeties and target open throwing lanes in zone coverage. Hit the seam route or dump off to the RB on the check down and watch as the offense converts, continuing the drive.
However, there is one defensive scheme in my playbook that I would carry in the game plan every Sunday to win in 3rd and 11-plus situations: "Ruby Tent Robber." Let's take a look at the coverage up on the chalkboard vs. 4 Verticals (one of the top routes in 3rd and 11-plus) and then breakdown the scheme.
Offensive Personnel: Posse (3WR-1TE-1RB)
Formation: "Doubles"
Route: 4 Verts
Defensive Personnel: Ruby (3DL-2LB-6DB)
Defensive Scheme: Ruby Tent Robber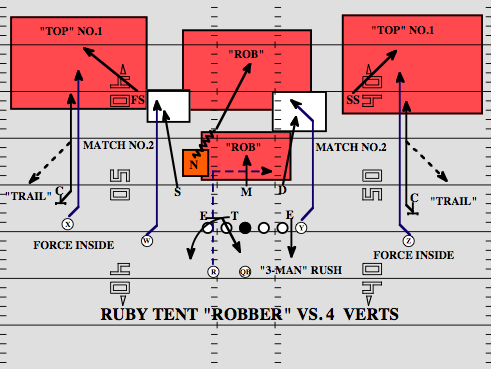 DEFENSIVE RESPONSIBILITIES
RDE: "Tex" stunt (Slant to "B" gap rush)
DT: "Tex Stunt" (Scoop to open side contain rush)
LDE: Closed side contain rush
M: Drop to first level; "Rob" technique
S: Inside vertical hook (Match to No.2)
D: Inside vertical hook (Match to No.2)
N: Drop to second level; "Rob" technique
RCB: Re-route No.1; play in trail position
LCB: Re-route No.1; play in trail position
SS: Widen drop past numbers; "Top" No.1
FS: Widen drop past numbers; "Top" No.1
DEFENSIVE NOTES
3-Man rush: I am using a "Tex" stunt (Tackle and End) to the open (weak) side of the formation here to give the O-Line something to work against. However, the key to any 3-Man rush is contain and a strong push up the middle. You need to keep the QB in the pocket and force him to step up.
CB Technique: Coach up your CBs to attack the release with Cover 2 technique (Jam, re-route No.1 to the inside). They will "trail" any vertical release (think 2-Man) and react to a ball thrown to the flat.
Vertical Hook players: The two "vertical hook" defenders (Sam and Dime) will match and carry No.2 on the release (W, Y). You want to see an angle that puts them on the inside hip of the receiver to play both inside and outside breaking concepts.
"Robber" technique: I have the Nickel (N) showing low in his pre-snap alignment and then working to the deep middle of the field. He is responsible for providing help over the top of the vertical hook defenders and can also drive on a second-level inside breaking route (think "Dagger" scheme). The Mike (M) will zone up (almost plays as a "Rover") to take away underneath concepts that work back to the middle of the field.
Safety technique: Both safeties are aligning at Cover 2 depth on their landmarks (top of the numbers). However, you want to coach your safeties to widen past their landmarks and play over the top of No.1 (X, Z). Take away the 9 route in this situation.
Is "pressure" a better option in 3rd and 11-plus?
I brought this up on Twitter and the majority of the responses I got: forget the 3-Man rush and bring pressure (blitz-man) instead. That is an option here. Align your DBs in an off-man position (depth of 8-yards), use a "flat-foot" read (play through the 3-step) and drive on the throw. However, if you miss a tackle playing blitz-man in a 3rd and long situation, it is time to strike up the band and play the fight song.
Follow me on Twitter: @MattBowen41