March 21, 2011 -
Matt Bowen
Breaking down A.J. Green vs. press coverage
Click here for the entire Inside the Playbook series
Let's move outside of the numbers today and check out Georgia WR A.J. Green working vs. press-man coverage. Inside of the 5-yard line there are two routes run at the NFL level: the slant and the fade. Simple route schemes that have to produce results—especially vs. press coverage.
Today, we will check out the video replay and go into detail with some coaching points for the projected top-ten pick. As the draft process continues into April, we will hear about Green's route running ability, his burst coming out of his breaks and the separation speed he has when the ball is in the air. But don't forget about pure playmaking ability. Exactly what we will see in the replay vs. Colorado.
Coaching Points
1. WR Split: With the ball into the boundary (sideline), Green has to take a reduced split (on top of the numbers) to create room to run the fade route. What you want from the WR is a hard, outside release that gives the QB a target up the sideline. Even with a 3x1 set (high offensive tendency for an open side slant in the NFL), Georgia has created the one-on-one matchup they want away from Colorado CB Jimmy Smith.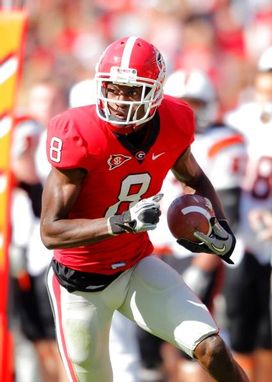 ICONFormer Georgia WR A.J. Green.
2. Initial release: Go back to the replay and check out the "quick jam" vs. Green. A great technique to teach if the CB can get his hands on the WR. This can disrupt the release—and the overall timing—of the route. But Green recovers, turns up field and becomes an athlete. He did not win at the line of scrimmage, but that doesn't mean the play is over.
3. High point the ball: Green is essentially working vs. a CB that has a "stacked position" on him after the release. With the "quick jam" and the zone turn (back to the sideline), the CB is in the ideal position to go up and make a play—cutting off the corner of the end zone. However, this turns into a back shoulder fade—with the QB throwing the ball high and to the outside. What we see next is Green playing the ball at the highest point (with one hand) and winning in a situation that favored the defense.
4. Playmaking ability: A very big part of the scouting process. Put yourself in the shoes of an NFL head coach, GM or scout. You want to see top prospects make these types of plays on tape—and it specifically applies to WRs and DBs. When the ball is in the air, who wants it? This isn't a perfect pass from the QB, but with Green, you have the overall talent at the WR position to still go ahead and make the big play on the goal line. The one-handed grab? Just adds to the well deserved hype for the Georgia WR.
Follow me on Twitter: MattBowen41