January 07, 2012 -
Matt Bowen
Breaking down Brees vs. the Lions' Cover 2
In the Saints 45-28 win over the Lions tonight, the Detroit defense gave up two big plays in Cover 2—a scheme designed to limit the vertical game. Let's break them down and talk some Xs and Os.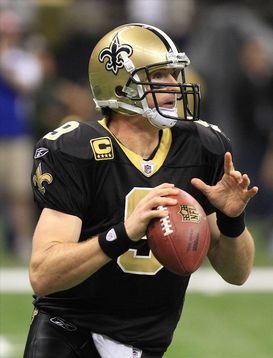 ICONBrees targeted the Lions' Cover 2 scheme tonight in the Saints' 45-28 win.
Drew Brees to Devery Henderson (41-yard TD): A deep double-move (corner-post) at the top of the route stem. The same route concept I broke down from the perspective of Calvin Johnson and the Lions on Thursday at the NFP. The Saints use pre-snap motion to allow Henderson a free release (CB will jam in Cover 2) and to get the WR matched up vs. a deep half safety. Work vertically up the field, force the safety to open his hips and break back to the post. It is a route that routinely targets Cover 2 safeties. And it is no different than playing off-man coverage in Cover 1 with no help. Tough spot to be in and a situation Brees and the Saints took advantage of.
Drew Brees to Robert Meachem (56-yard TD): This looked like a blown coverage from the Lions' secondary, but it is more about the technique (and eyes) of the deep half safety. Two vertical routes (seam routes) down the field. The safety has to play with depth on top of his landmark (top of the numbers), read the QB and break on the throw. Here, Brees looks to the inside vertical seam, forces the safety to jump the No.2 WR and finds a wide-open Meachem along the sideline. A concept Cover 2 teams see every Sunday and a route designed to put the safety in an adverse situation where he has to trust the discipline of the scheme.
The Saints put up over 600-plus yards of total offense vs. the Lions tonight, but I still focus on the deep ball when we talk scheme and the Cover 2 defense. Two plays that went for six points that could have been prevented with better technique from the safety position.
Follow me on Twitter: @MattBowen41