May 01, 2012 -
Matt Bowen
Breaking down five mid-round value picks
On Monday, I broke down five of the top picks from the NFL Draft that could provide an early impact this season when we talk game plans. However, let's not forget about the mid-round picks—the value picks—that are scooped up later in the draft. Here are five rookies that should provide depth and play a role in 2012.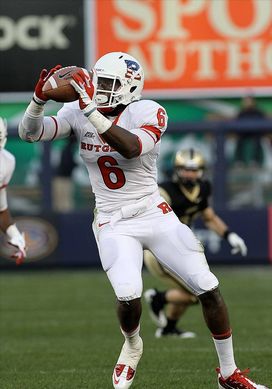 ICONThink inside breaking routes with Mohamed Sanu in the Bengals offense.
WR Mohamed Sanu—Bengals (No.83): The Bengals had an impressive draft class and Sanu is one of those pospects we should look at. The WR from Rutgers has some size (6-2, 211) and should factor into the game plan with the inside breaking route tree aligning opposite A.J. Green. The key for rookie wide outs with a big frame: learning how to defeat press-coverage. That has to be a top goal for Sanu this summer so he can contribute early as a rookie.
CB Dwight Bentley—Lions (No.85): During Senior Bowl practices in Mobile, I consistently found myself writing down notes about the Louisiana-Lafayette CB. Good feet, a clean plant and drive, plus solid technique from an off-man position (toughest job for any DB). Bentley wanted to compete daily in Mobile in front of pro scouts. And looking at the depth in the Lions secondary, finding a CB that can come in and push for playing time in the 3rd round brings value.
RB Lamar Miller—Dolphins (No.97): Miller was projected to come off the board much earlier, but like every draft, we always see prospects slide. For the Dolphins, finding a RB with Miller's skill set in the 4th is a solid pickup. The former Hurricane has 4.4 speed, good vision and cut back ability. In every pro backfield, you need multiple ball carriers in a sixteen game season. Like the move from the Dolphins to draft Miller and add more talent to that offense.
NT Alameda Ta'aum—Steelers (No.109): A good find for the Steelers in the 4th round when we talk scheme and defensive front. Ta'amu has the size and ability to eat up double teams and is an ideal fit as a 3-4 NT. The former Washington standout will need some time to develop as a pro, but give the Steelers credit for getting younger at a position that is vital to the success of their defense.
CB Brandon Boykin—Eagles (No.123): I was surprised to see Boykin on the board late in the 4th round. A prospect with return skills, the ability to play press and slide inside as a nickel defender. In Philly, I can see Boykin playing multiple roles in the secondary and having an immediate impact covering kicks. The type of mid-round draft pick that gives you options in the defensive sub packages.
Follow me on Twitter: @MattBowen41