May 05, 2012 -
Matt Bowen
Breaking down Graham and the red zone slant
Click here for the entire Inside the Playbook series.
This past week, I talked matchup (plus the Xs and Os) of rookie Mark Barron vs. Jimmy Graham. Three situations the Bucs safety will have to prep for during the 2012 season: backside of a 3x1 set, the inside vertical seam and the slant/fade combo in the red zone. Today, let's look at the Saints 3-step game inside of the 10-yard line, breakdown the defensive technique and discuss some coaching points.
Giants vs. Saints
Personnel: Ace (2 WR, 2 TE, 1 RB)
Route: Tare/Slant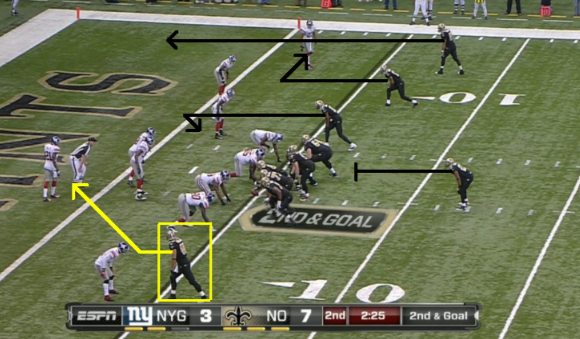 - When you are playing the Saints (or Packers, Patriots, etc.), expect to see multiple formation alignments with two TE personnel in the huddle. Here, the Saints have a 3x1 alignment with Graham removed to the open (weak) side of the formation as the "X" receiver (also called "Dakota"). Why? Create that one-on-one matchup to the backside vs. a CB/SS for the slant or fade.
- With both WRs aligned inside the numbers to the closed (strong) side of the formation, New Orleans gets a clear-out 9 (fade) route from the "Y" TE and the "Tare" concept (Option/Flat combo). A route scheme in every NFL playbook out of a 3x1 formation.
- Let's look at Graham from the perspective of Barron (or any other SS/CB) in coverage. Ball into the boundary (sideline) with Graham aligned on the bottom of the numbers. This can be viewed as a short (or reduced split), but the TE is still in a pre-snap alignment that allows him to release inside and run the slant.
- How would I coach up the DB here? Slight inside shade (almost head-up). As I have written before, you have to take away the slant inside of the 10-yard line. Force Graham to cross your face, punch with the outside hand, slide your feet and ride the TE laterally to the line of scrimmage. You give up an inside release (or take a "bucket step") and Graham will create leverage. That's all he needs to win here.
- The fade (or back-shoulder fade)? That can be a nightmare vs. Graham (even with solid technique). However, if you have the proper alignment (and know Graham has to cross your face on the slant), you can punch with your inside hand, drive to the hip, turn your head back into the receiver and play the ball up through the "pocket." Easy for me to write, but that is still the coached technique.
If you want to win in coverage vs. Graham, it has to start with technique. That gives you a chance to play the concept and find the ball. And when the Saints TE is aligned out of position, he will be a primary target.
Follow me on Twitter: @MattBowen41