July 20, 2012 -
Matt Bowen
Breaking down Nickel 'Nemo' Fire Zone
Click here for the entire Inside the Playbook series.
Click here for a base look at zone pressure.
Before we roll into training camps next week, I want to go back to the chalkboard and talk some more zone pressure in NFL playbooks. A quick breakdown of how to get the Nickel Corner involved in the blitz front vs. Posse (3WR-1TE-1RB) personnel.
Take a look at the diagram up on the chalkboard and then we will get into some coaching points.
Offensive Personnel: Posse (3WR-1TE-1RB)
Formation: Doubles
Defensive Scheme: Nickel "Nemo" Fire Zone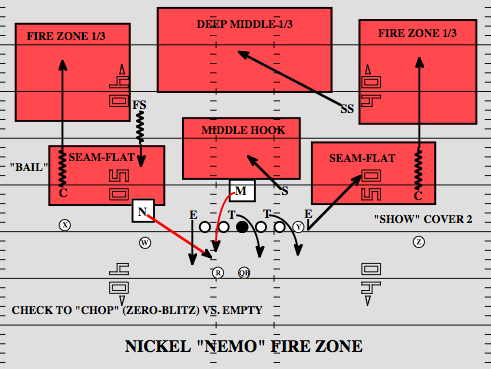 - Same idea with "Nemo" called in the huddle when we look at the base zone principles: rush five, drop six into coverage (3-deep, 3-under). Again, I always want to roll my defense into the blitz front. With both CBs aligned in a press-look (will "bail" at the snap) and the safeties in a 2-deep alignment, I want to show Cover 2 in my pre-snap alignment.
- I'm adding the Nickel (N) and the Mike (M) to the blitz-front with the closed (strong) side DE dropping into coverage. The key here is the open (weak) side DE. You want to coach him to rush vertically up the field to allow the Nickel to come underneath. With the Mike hitting the open side B gap, you can create a 3-on-2 vs. the OT and OG. And depending on how the offense uses the RB (R) in protection, you could get the Nickel on a free run at the QB.
- The majority of zone blitzes will use a 3-deep, 3-under shell with both CBs playing a "fire zone deep 1/3" technique (match to No.1 vertical) and the safety rolling to the deep middle of the field. Underneath, the DE and FS will play a "seam-flat" technique (match to No.2) with the Sam LB (S) moving to the "middle hook" (match to No.3).
- Is the ball guaranteed to come out quickly? Not with a 5-Man pressure. Remember, this isn't a Cover 0 blitz. That's why the coverage discipline is key along with disguising this pressure before the snap. Don't show early when you stem to your blitz alignment and be prepared for the QB to test the secondary.
- A quick note on the "Chop" check up on the diagram. If they come out in an empty alignment, then check to a Cover 0 blitz and send the house.
Follow me on Twitter: @MattBowen41