April 21, 2011 -
Matt Bowen
Breaking down Rashad Carmichael's technique
Click here for the entire Inside the Playbook series.
Let's talk technique in the secondary today and focus on former Virginia Tech CB Rashad Carmichael. A solid second day prospect that can play press-man and add depth as a rookie to any NFL defensive backfield.
I had a chance to watch Carmichael practice down in Mobile at the Senior Bowl. He stood out from my perspective because of his speed playing the vertical route tree, attention to technique and his overall competitive attitude throughout the week of practice. A physical football player—and something you expect with any defensive back coming out of Frank Beamer's program at Virginia Tech.
Today, let's look at Carmichael's interception vs. Georgia Tech and break it down with the video replay and some detailed coaching points.
Coaching points:
1. Split and release of the WR: Why does Carmichael get a hard inside release in this situation from the WR? Look at the pre-snap alignment. With the ball on the near hash and WR aligned outside of the numbers, there are only two route concepts with an outside release: fade and comeback. That's it given the amount of room to work with. The WR has to release hard to the inside, stem his route vertically up the field and create space to run the 7 cut to the corner of the end zone.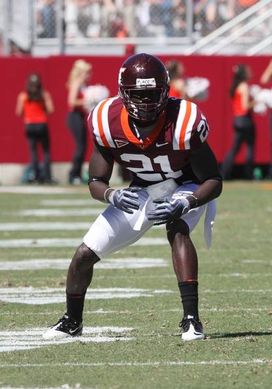 ICONCarmichael's technique at the point of attack allows him to locate the ball.
2. Play to your leverage: Look at the safety in the middle of the field. This is a Cover 1 scheme. Slide your feet laterally on the release, get your hands on the WR in a press-alignment and maintain outside leverage. Yes, I would like to see Carmichael drive to the hip of the WR after the initial jam. That is the proper technique to coach. However, by using the FS and playing to the outside, he can get back into an underneath trail position on the WR. Proper leverage always gives you a chance to make a play.
3. Recover to the hip: Recovery speed is one thing (which Carmichael has), but the angle to the WR is more important from a coaching perspective. Now that Carmichael is essentially playing a 2-Man technique (man-under), he has to take an up field angle that puts him back "in-phase" (on the bottom hip) with the WR. Crucial to giving yourself an opportunity to make a play on the ball.
4. Find the ball: Too often we see defensive backs panic at the point of attack and fail to locate the football. Not in this situation. Because Carmicahel is in the proper position, he can use a "head whip" technique, gets his eyes back to the QB and take the ball away. Big time play given the situation of the game. Exactly what you want to see as a talent evaluator—a DB finishing the play.
Follow me on Twitter: MattBowen41