January 04, 2011 -
Matt Bowen
Breaking down Reed's impact
Put yourself in the shoes of Chiefs' QB Matt Cassel. Let's call it a 3rd and 10 situation late in the game this Sunday—and you have to make a play. Huddle call is to throw the skinny post to WR Dwayne Bowe, pick up the first down and keep a crucial drive alive.
Sounds good, looks great on the chalkboard and has been a play that you have thrown all week against the scout team in practice. Easy. Take the 5-step drop, plant that foot and deliver the ball on the up field shoulder away from the cornerback's outside leverage.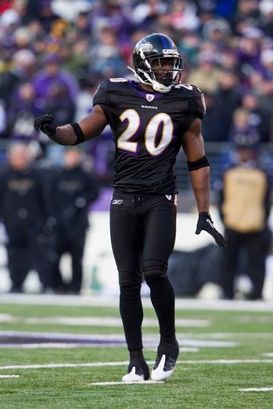 ICONThe Ravens' Ed Reed can take away part of the route tree from the safety position.
The only problem? The Ravens' Ed Reed doesn't play on the Chiefs' scout team.
In my opinion, Reed would have walked away with the NFL's Defensive Player of the Year award if he played the entire year. The free safety has eight interceptions in a little over one half of the season. Not bad, right?
We know Reed is a big play safety, but it goes deeper than interceptions and game changing plays. He also takes away aspects of the route tree. Think of that skinny post we just talked about along with the other deep inside breaking routes: the 15-yard dig (square-in), the post off of play action, the seam, etc. Plus, let's not forget what he can do from a single high safety look—or from a Cover 2 alignment—when he can break on the throw and overlap a vertical route outside of the numbers.
No doubt that the interceptions are big—but Reed also has an impact on an offensive game plan based on where he lines up on the field.
And that is the issue—the in-game chess-match from the Chiefs' perspective. You can't get by in the NFL playoffs without challenging a defensive secondary. And I wouldn't expect Cassel and this offense to shorten their game plan or play a safe brand of "check down football" for four quarters. But we can't ignore the fact that Reed will impact how Cassel goes through his route progressions and if he comes off of his primary read quickly based on the safety's pre-snap alignment.
That is a big plus for this Ravens' defense. The same defense that will use overload pressure (along with their Cover 2 and 2-Man coverage schemes) to take dictate the flow of the game to the offense and take away the deep ball.
I like what K.C. has been able to do this season from an offensive perspective and Cassel has played good football for the majority of this year under the national radar. But, this is the big test. The NFL's grand playoff stage vs. a safety that can change the way you play the game.
Follow me on Twitter: MattBowen41