November 10, 2011 -
Matt Bowen
Breaking down the Bears' 'Spot' route
Click here for the entire Inside the Playbook series.
Every time you watch an NFL game, there is something to learn from when we talk Xs and Os. Formations, wide receiver splits, route stems, coverages, etc. And that's why I want to go through a quick breakdown from the Bears-Eagles matchup on Monday night.
Go back to the first drive. Second and goal situation. The Bears bring "Tank" personnel (1 WR, 2 TE, 2 RB) on the field and create a bunch look.
The concept from Martz's playbook: the "Spot" route.
A 7 (corner)-curl-flat combo designed to create room to work the curl (or the "spot"). Run off the top of the coverage with the 7 route, widen the defense with the flat route and sit the curl down vs. both man and zone schemes.
First, let's take a look at it on the chalkboard. I drew up the concept in Regular personnel (2 WR, 1 TE, 1 RB).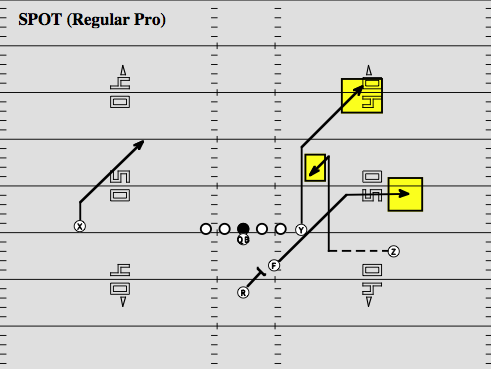 If I am calling plays, I want to get my receivers into a bunch look to generate a free release and to create some natural "pick' situations if the defense is playing Cover 1 (man-free). Here, I am bringing the Z receiver in motion with a Strong I set (to create the bunch) in the backfield. Run the TE (Y) on the 7 cut, get the FB to the flat and drop the Z receiver in underneath on the curl.
Now, let's check out how the Bears ran it for a TD on Monday night, drawn up from their pre-snap alignment.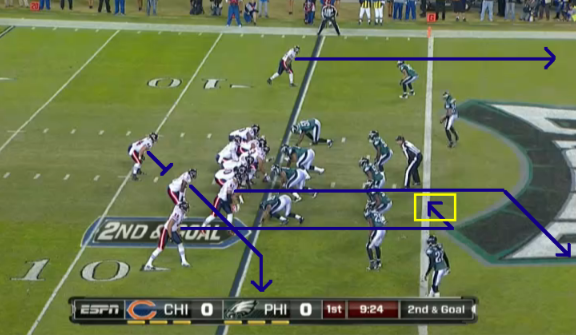 Even with Tank personnel on the field, Martz creates a 3x1 set with Matt Forte removed from the core of the formation as the open (weak) side X receiver. To the closed side, WR Roy Williams will run the flat with TE Kellen Davis on the 7 route. That leaves the second TE in the game, Matt Spaeth (labeled as the "U" TE in the playbook), on the curl. A quick, short throw for QB Jay Cutler.
Same concept (run out of a bunch set) that I drew up on the chalkboard. However, with Martz you get the added window dressing of personnel and formation alignment. A simple concept now disguised from their pre-snap look.
The "Spot" route is used throughout the league, and as I have said before, it is one of the top three concepts you have to defend in the NFL. Keep an eye on that starting tonight in the Raiders-Chargers matchup and throughout the Week 10 NFL schedule—because you will see it.
Follow me on Twitter: @MattBowen41