January 27, 2011 -
Matt Bowen
Breaking down the Boise State WRs in Mobile
MOBILE—As an ex-defensive back in the NFL, I spent a lot of time focusing on the secondary down at the Senior Bowl. The safeties and the corners. Footwork, how they move, etc. However, with that comes a good view of the wide outs. Not a stand out class in Mobile without juniors A.J. Green of Georgia and Julio Jones of Alabama, but still some solid talent running routes. The two players I want to discuss today played at Boise State: Titus Young and Austin Pettis. Both were playmakers working with Broncos' QB Kellen Moore and both will bring something different to the pro game.
Let's break them down…
Titus Young (5-11, 174)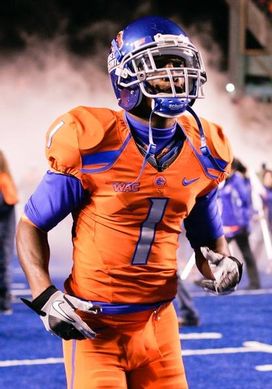 ICONYoung displayed speed and deep ball skills on the practice field this week.
Speed and change of direction. That's the first thing that jumps out watching Young this week in Mobile. Consistently made plays starting in one-on-ones and carrying over into team work. He can bring some excitement to an offense because he has that unique ability to stretch the top of the defense (fade, 7, post, double-move). And he can also make plays in the underneath passing game (think 3-step route tree, underneath crossers, option routes, etc.). The challenge, however, for Young will be working against press coverage on Sundays. Not an ideal guy to align outside of the numbers, but think of it this way: move him inside and let him work those short to intermediate routes. Yes, he has the speed to win on the outside once he can get separation from the defensive back (something he displayed all week), but I think we are looking at a rookie WR that can add to an offense as a No. 3. There is talent here and he has the speed to make things happen at the NFL level. Exciting player.
Austin Pettis (6-2, 205)
The Boise St. WR has some size and I view him as the type of player that can work outside of the numbers and make plays in the NFL. Bigger receivers can cause some issues for defensive backs. They can use their size to defeat leverage and work back towards the football. During my career, that was a guy like Keyshawn Johnson. Big, strong at the line of scrimmage and could run the post, the curl, the slant, comeback and the out. Plus, let's not forget what size brings to the red zone route tree. Pettis doesn't have elite speed in the vertical game and must continue to work on his route running, but there is potential once he continues his development. He has to learn to play with lower pad level and come out of his cuts with more speed, quickness (still will round the top of his routes). Pettis isn't a receiver that is going to be at the top of draft boards, but I so see the value in his game. You are going to get a big target that I envision making the tough catches.
Follow me on Twitter: MattBowen41