December 29, 2010 -
Matt Bowen
Breaking down the coaching hot seat
Four coaches have already been shown the door in the NFL this season. Wade Phillips in Dallas, Brad Childress in Minnesota, Josh McDaniels in Denver and Mike Singletary in San Francisco. Who's that next name on the list?
Today, let's run through the coaching hot seat—and discuss my picks of who goes, who stays and who is on a short leash.
Fired on Monday morning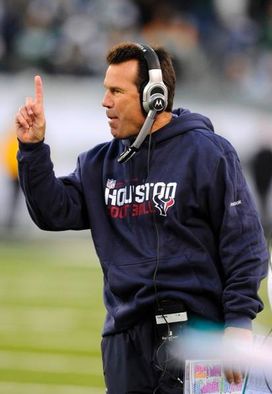 ICONTime for the Texans to fire Gary Kubiak.
1. Gary Kubiak, Houston: I have heard the talk of bringing in a new defensive coordinator to give Kubiak some help down in Houston, but I'm not buying it. This Texans' team has underachieved with Kubiak in control. Great numbers offensively when you pick up the box score on Monday morning, but just not enough wins. A team that started 4-2 but has since packed it in. I just don't see the mental or physical toughness in Houston with Kubiak. Time to make that change.
2. Marvin Lewis, Cincinnati: The Bengals went from division champs in 2009 to a team that couldn't compete in the AFC North in 2010. This could be a dramatic offseason of change in Cincy with names like Terrell Owens, Chad Ochocinco and quarterback Carson Palmer turning in their gear—and Lewis should be on the list also. He has had multiple chances to develop this Bengals franchise into a consistent winner and the results speak for themselves.
3. John Fox, Carolina: Fox never stood a chance with the Panthers this season. Quarterback issues, a lack of playmakers at the receiver position and a defense that needs upgrades. This move will be made by next week and we can all see it coming. I expect Fox to be a hot name when it comes to teams looking for coordinators and even a possible head coaching position. It was never going to happen in Carolina without a great season—and the Panthers just don't have the talent. Time to draft Andrew Luck from Stanford and start over.
One more chance in 2011
1. Jeff Fisher, Tennessee: There is an interesting dynamic in Tennessee because of owner Bud Adams—who wants his quarterback to play. The only issue here is that Fisher doesn't agree when it comes to Vince Young. But, losing Fisher would be a mistake from my perspective. He is the right coach for the Titans and the one that will give them the best chance to have a productive season in 2011—with or without V.Y. Don't toss out a proven leader in the NFL, because they aren't that easy to find.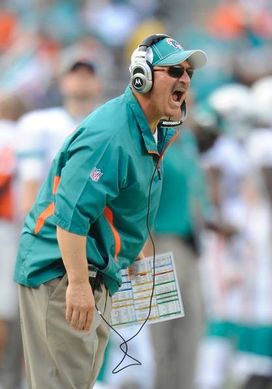 ICONSparano needs another season in Miami.
2. Tony Sparano, Miami: The talk around the league right now is that Sparano is on the way out in Miami. A 1-7 record at home with empty seats will do that to a coach. However, I would keep him for one more year. I like the way the Dolphins play football. They are physical, can run the ball and have a young, aggressive defense. The problem? The quarterback position in Miami. Chad Henne hasn't developed at a quick enough rate and we see the results on the field. But, if the Dolphins can make a move this offseason to upgrade the position, I see a team that can win consistently in the AFC East with Sparano as the headman.
3. Eric Mangini, Cleveland: The Browns are an interesting team because we started to see major improvement as the season progressed, but some December losses have hurt Mangini's standing in Cleveland. However, the Browns are playing with a 3rd round rookie quarterback and have multiple holes to fill on both sides of the ball. Another draft and another crack at free agency might give Mangini some more talent to work with and win next season. From what I have heard, the players bought into his coaching and his style of football this season. Give him another shot in Cleveland.
4. Tom Coughlin, N.Y. Giants: Would we even be talking about Coughlin right now if the Giants closed out the Eagles in Week 15? Probably not, but that is the exact reason (along with the Green Bay loss) Coughlin's name is being brought into question. Even saying that, I don't fire him. Coughlin has a solid defensive coordinator in Perry Fewell and is the type of coach that is going to work to turn this around in 2011. Too soon to let a coach go with a Super Bowl ring from beating the perceived best team of all time (on paper) in the 2007 Patriots. He can still win in New York.
Bring them back—without question
1. Tom Cable, Oakland: It is hard for me to believe that Cable is even being brought up in this discussion around the league, because he is an ideal fit for the Raiders. Oakland is relevant again because they play a physical brand of football on both sides of the ball. And, if they want to stay competitive, Cable needs to be back on the sidelines in 2011. It is about time to have some consistency in Oakland, and I don't see how bringing in yet another name is going to be considered an upgrade. Stick with Cable and continue to win games.
Click here to hear more coaching talk in the Bump and Run podcast.
Congrats to Kirk Ferentz and my Iowa Hawkeyes for the win over Mizzou last night in the Insight Bowl.
Follow me on Twitter: MattBowen41