June 20, 2012 -
Matt Bowen
Breaking down the Cover 1 'jump' technique
Click here for the entire Inside the Playbook series.
Let's talk some defense today and focus on the "jump" call in Cover 1 (man-free). A smart technique used to defend underneath crossing routes with the FS position vs. a "nasty" (or reduced) WR split to the open (weak) side of the formation.
Take a look at the defensive scheme up on the chalkboard and then we will get into some coaching points.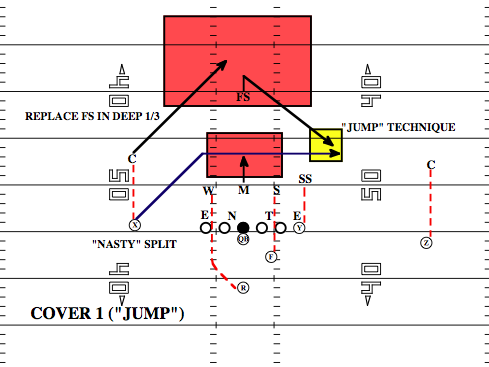 Base Cover 1: A quick crash course in Cover 1: man-free (FS help in the middle of the field) with defenders playing from an outside leverage position. Funnel receivers to the middle of the field (in both press and off-man), play to the upfield shoulder on inside breaking routes and hold your leverage vs. the 5 (out) 7 (corner) and comeback.
WR Splits: Check the pre-snap splits of the WRs—because they will tell you a story. Here, I have Regular personnel (2WR-1TE-2RB) on the field with the No.1 WR to the open side of the formation (X) in a "nasty" alignment (inside of the numbers). What does that tell you as a DB? Alert for an inside breaking route (react to the 7).
"Jump" technique: The FS is going to swap spots with the open side CB (hand signal given pre-snap). When the X receiver takes a hard inside release and stems back to the middle of the field, the FS will drive the route (as shown on the chalkboard) with the CB rotating to the deep middle of the field.
Why the technique works: The offense wants to run an inside breaking concept vs. CB aligned with an outside shade. That puts the defender in a trail position working back across the field. With the "jump" technique, the FS can take an angle that puts him in a position to drive the route (aim at hip of the receiver) and make a play on the ball.
How do you beat it?
Once you see a secondary using the "jump" technique on film, run the X on the "middle of the field iso." Similar to an option route, the WR will stem inside of the numbers and work off the FS. And you probably see the WR "option" off the FS back to the numbers.
Follow me on Twitter: @MattBowen41