April 29, 2011 -
Matt Bowen
Breaking down the Day 2 quarterbacks
Let's take a look at the three QBs that came off the board tonight and break down the value they bring to the NFL and how they fit offensively with their new pro teams.
No.35--Cincinnati: Andy Dalton, TCU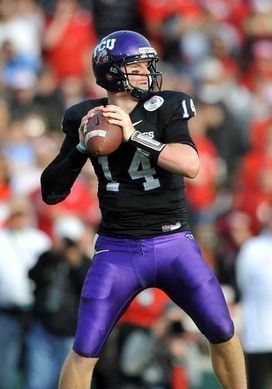 ICONDalton heads to Cincy.
Dalton didn't play in a pro style system down at TCU, but we are talking about how he projects to the west coast offense in Cincy under Jay Gruden. Think of the route tree from this standpoint: inside breaking routes between the numbers and the hash. Because that is what Dalton will throw for the Bengals outside of the 3-step and vertical passing game. He is accurate with the football, brings intelligence to the huddle and getting him in the second-round (compared to the top 15 reaches for Jake Locker and Christian Ponder) gives the Bengals some value here. Could be the opening day starter for Marvin Lewis.
No.36--San Francisco: Colin Kaepernick, Nevada
I'm not sold on Kaepernick coming off the board this early in the draft. But with the Niners trading up to get the Nevada QB, they see a player that projects in Jim Harbaugh's offense. There is no question he is athletic, can move out of the pocket, but he needs time to develop as a pro QB. His mechanics and footwork both need to be re-taught at the NFL level, plus the read option out of the "pistol" offense doesn't translate to Sundays. However, if veteran Alex Smith comes back to play for Harbaugh in 2011, San Fran can buy that time for their rookie QB. We use the word "upside" with prospects all of the time, and I think that applies to Kaepernick. Give him some time and let's see when he becomes the eventual starter for the Niners.
No.74--New England: Ryan Mallett, Arkansas
Did anyone see this one coming from Belichick and the Pats? I for sure didn't, but when a QB with first-round talent (and arm strength) drops to the third round you take him off the board. This doesn't involve the risk of a top 10 or even a top 20 pick—plus he isn't going to see the field early in his career behind Tom Brady. What the Patriots have is a 6-6 QB that threw pro style route schemes at Arkansas. And he is a fit from a personnel and play calling standpoint in New England. From the perspective of Mallett, this isn't ideal to slide on draft weekend--because that limits the amount of opportunities to play. But working within the Patriots organization can teach him how to become a pro at the position.
Follow me on Twitter: MattBowen41</a>