January 27, 2012 -
Matt Bowen
Breaking down the DB talent in Mobile
Click here to check out the NFP's Draft Page.
Click here for a look at the Xs and Os of the Senior Bowl.
On Monday, NFL scouts called this an "average" class of defensive backs at the Senior Bowl. But after watching three days of practice in Mobile, I saw some talent that can be developed at the pro level.
Here is a list of names to keep an eye on throughout the draft process.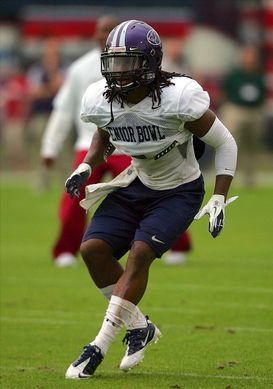 ICONJanoris Jenkins improved his draft stock at the Senior Bowl this week.
- Janoris Jenkins, CB, North Alabama: There was a buzz from NFL scouts I talked to on the transfer from Florida. Solid change of direction skills, can play from an off-position and will use his hands at the line of scrimmage in a press-man alignment.
- Alfonzo Dennard, CB, Nebraska: I was impressed with Dennard because he was the most physical CB on the field this week. Might be targeted as a Cover 2 corner in the draft, but he did show some ability in one-on-ones to play the ball. Plus, he had WRs looking to hide during "stalk block" drills. Dennard can hit.
- George Iloka, FS, Boise State: Size (6-3, 222), range and ball skills. What you want to see from a deep middle of the field safety. Needs to polish his man-coverage skills from a technique standpoint, but if he tests well at the Combine, he could rise up draft boards.
- Jamell Fleming, CB, Oklahoma: I thought Fleming's play improved with each practice. The Sooners' CB began to trust his eyes, drive on the ball and open his hips to turn on the deep ball. Wasn't perfect with his technique, but did show some recovery speed. The way I see it, Fleming was the top CB on the North roster.
- Harrison Smith, SS, Notre Dame: I'm not sold that Smith can play the deep middle of the field on a consistent basis, but as SS in the box or coming off the numbers in Cover 2, the Notre Dame product fits well. Didn't give ground in one-on-ones vs. the TEs, used his leverage and showed some solid technique. Immediate special teams contributor that should develop into a starter.
- Dwight Bentley, CB, Louisiana-Lafayette: An active player that is around the football—and he wants to challenge receivers. Quick with his hands on the initial punch in a press-position and will drive on inside breaking routes with clean cuts from his backpedal. Might not have ideal size outside the numbers, but he caught my eye because he came to Mobile to compete.
Others to watch…
- Casey Hayward, CB, Vanderbilt
- Brandon Boykin, CB, Georgia
- Markelle Martin, FS, Oklahoma State
Follow me on Twitter: @MattBowen41