July 27, 2011 -
Matt Bowen
Breaking down the impact of the McNabb deal
Let's look at the deal that sends QB Donovan McNabb from Washington up to Minnesota…
Trade Value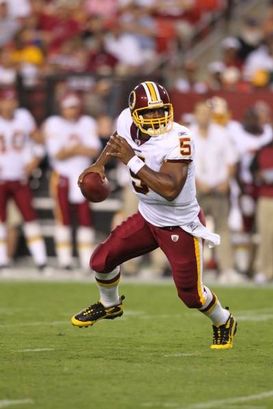 ICONMcNabb is headed to the Vikings.
Cheap price to pay for the Vikings to ensure that they have a veteran in camp. Giving up what is believed to be late round picks shows us that the market for McNabb was very light—almost non-existent. That is a big drop off compared to what the Redskins paid to get McNabb just last offseason. But after the numbers the veteran produced during the 2010 season, this is how the league viewed him in terms of overall value on the market.
Veteran impact
I hit on this last night in my free agent notes when discussing the Vikings. This was a play the club had to make. If it wasn't McNabb, then we should have expected Minnesota to look for another veteran at the position. Christian Ponder could very well see an increased amount of playing time during this season, but after an offseason wiped out due to the lockout I wouldn't throw the rookie on the field. What this deal does is buy time—valuable time—for Ponder to start studying the game at the pro level.
McNabb's skill set
Can the Vikings still get solid production from McNabb? Yes, but this isn't the QB of three or four years ago. He doesn't run as well, and although the arm strength is still there, accuracy has to improve as well as his decision making process. What the Vikings need to see is a QB that can throw and complete the intermediate route tree (dig, post, comeback, deep curl), hit on play action and produce inside of the 20-yard line. Plays veteran QBs have to make.
The Redskins QBs
We should have all expected Washington to either trade McNabb or cut him at some point this week. But where does that leave Mike Shanahan and the 'Skins? We have all heard the talk on John Beck since April, the club signed Kellen Clemens today and I expect that Rex Grossman will be back in the mix. Is that enough to compete in the NFC East after a position battle this August? A depth chart that isn't going to scare many defensive coordinators in this league.
How do you think McNabb fits in Minnesota? Talk about in the NFP Forums.
Follow me on Twitter: MattBowen41