January 11, 2011 -
Matt Bowen
Breaking down the NFC Divisional Playoffs
Let's talk NFC playoffs today. My breakdown from a scheme perspective heading into the weekend's matchups. Some X's and O's, analysis, etc. to get you ready for the divisional round.
Green Bay at Atlanta
Saturday: 8 EST (FOX)
The Atlanta pressure: The Falcons have developed into a pressure defense that will bring edge pressure along with A and B gap stunts out of their sub packages. Packers' QB Aaron Rodgers will have to see that pressure and check to the 3-step game, and don't be surprised to see Green Bay use their screen package early in the first quarter. There are multiple ways to counter pressure looks and they will all be a part of the Packers' game plan—because I do expect Atlanta to come after this offense.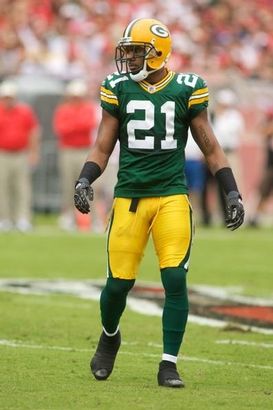 ICONGreen Bay's Charles Woodson.
Woodson's matchups: I want to see the Packers' CB move inside of third downs to matchup with Falcons' TE Tony Gonzalez. That's what I would do if I was putting together the Packers' defensive game plan. With Woodson, you get a physical corner with safety size that can align in a press-look vs. Gonzalez and take away the option route, the slant and any double move. Don't give Atlanta QB Matt Ryan an easy target to move the sticks.
Michael Turner: This Green Bay defense knows what they are going to get from Turner: downhill runs in both one and two-back looks. The Packers front seven has to get off of blocks, attack the line of scrimmage and get some penetration to knock off the pulling guard in the Falcons' Power O scheme. Turner is going to be featured in the game plan—and now it is on the Packers' defense to limit the amount production he will get.
James Starks: Continue to have a balanced offensive attack. That has to be the No.1 goal for Mike McCarthy as they head to the stadium on Saturday night. Green Bay doesn't need another 100-plus yard performance from their rookie RB, but they do need to control the tempo of this game. Give Starks multiple opportunities to run the ball in their power schemes out of their Tank (1 WR, 2 TE, 2 RB) and 3 RB personnel that gives them the "full house" backfield look. Doesn't have to be flashy, but nothing is in the playoffs. Line up and attack this Atlanta defense.
Matt Ryan and the sprint game: Move the Atlanta QB out of the pocket. Ryan is productive in the sprint game because he can keep his eye down the field and square his shoulder to the target. This also allows the Falcons to counter the multiple blitz looks that they will see from Packers' coordinator Dom Capers. The route scheme? Look for the flat-7 (flag) combo—especially vs. pressure. That gives Ryan two outside breaking routes to target.
Explosive plays: Who can pick up explosive plays on offense? Is it Roddy White or do we see Greg Jennings get behind the secondary? One area of the field to look for play action is between the 40's. This is when NFL offenses will take a shot down the field and test the top of the defense. I'm all for having a balanced attack on offense in playoff football, but a big play can win a game. Both clubs need to take some shots early.
Seattle at Chicago
Sunday: 1 EST (FOX)
Edge pressure: The Seahawks blitzed and hit QB Jay Cutler multiple times in their first meeting by bringing safety pressure off of the edge. The Bears will watch that tape this week, but if they want to advance to the NFC title game, they need to slide the protection, scan the RB and give their QB time to throw. If we do see a similar game plan from Pete Carroll, look for WR Earl Bennett to have a productive day aligning in the slot—because that is where he will catch the quick 1-step slant vs. pressure.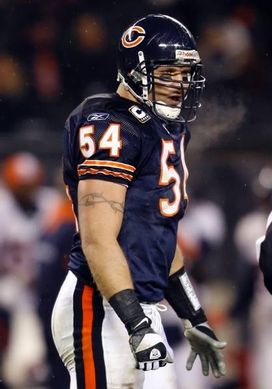 ICONUrlacher will play a big role in stopping Seattle's Marshawn Lynch.
Shutting down Lynch: The question to ask is simple: can the Bears limit Seattle RB Marshawn Lynch with seven in the box. Love Smith wants to play Cover 2, and although he will use some 8-man fronts (Cover 1, Cover 3, Under 10), the Bears can alter the Seattle pay calling if they can play the run with a 2-deep safety look. MLB Brian Urlacher has to be fast to the hole and must be on top of diagnosing his run-pass keys. Can't have any hesitation as Mike Backer in a Cover 2 defense. Big game for Urlacher.
Cutler: Play within the system. The Bears don't need to see their QB taking unnecessary risks down the field or throwing off of his back foot into coverage. You want Cutler to be aggressive, but he has to understand that taking the check down is a win in playoff football. Cutler doesn't have to be a "game manager" but he can't take points off of the scoreboard or put the defense in an adverse position.
Mike Williams vs. the Bears' secondary: Challenge the Bears' secondary. Versus Cover 2, run vertical route schemes that put stress on the safeties and open up deep throwing lanes along the sideline. Versus any a single high safety look, the Bears' CBs will sit hard outside with their leverage. For Seattle, that means inside breaking routes that take advantage of Williams' size. He should be the No.1 target for QB Matt Hasselbeck on Sunday.
Forte's production: The Bears can be conventional at times under Mike Martz and that includes running the football with Forte. We still will see some mis-direction and counter action from Martz's playbook, but they have shown the ability to line up and run downhill in this offense. Plus, we can't forget what Forte brings catching the ball out of the backfield. Bottom line: Martz can't get too creative this Sunday. Keep it simple and we should see Forte with 20-plus touches.
Special Teams: Seattle's Leon Washington and Chicago's Devin Hester. Field position is crucial to winning on the playoff stage and both players can flip the field and score in the kicking game. Expect to see plenty of directional kicking and both clubs must stay disciplined in their coverage lanes and tackle—because missed assignments will lead to a quick score.
Tomorrow: Breaking down the AFC Divisional Playoffs
Follow me on Twitter: MattBowen41