May 09, 2012 -
Matt Bowen
Breaking down the Patriots 'Joker' personnel
Click here for the entire Inside the Playbook series.
I want to go back to the AFC Playoffs and talk formation and route scheme with the Patriots. An offense that will use multiple personnel groupings, disguise concepts and throw in some window dressing to run basic routes inside of the red zone.
New England has "Joker" personnel (3 WR, 2 TE) on the field and aligns TE Aaron Hernandez in the backfield as the "R." Take a look at the route scheme drawn up below (with both TEs highlighted in yellow) and then we will get into some coaching points.
Broncos vs. Patriots
Personnel: Joker (3 WR, 2 TE)
Formation: Slot Open
Route scheme: Smash-7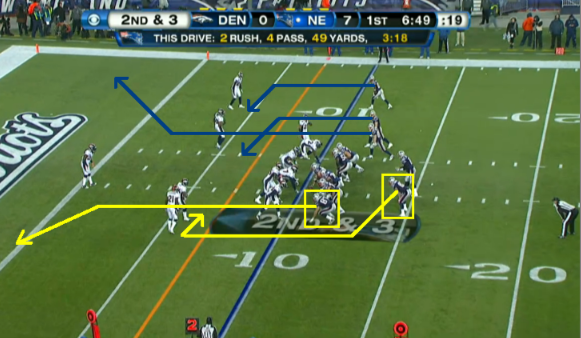 - Start with the personnel and the alignment. This is nothing more than a "slot open" formation (3 WRs to the open side), but the alignment of Hernandez will impact the pre-snap adjustments for the secondary. The defense has to treat Hernandez as the RB (or "R"). But I can tell you that whenever a receiver is aligned in the backfield, it causes confusion from a defensive perspective.
- Go the open (or weak) side of the formation. What you are looking at is a "Double China-7." A route scheme the Patriots use often in the red zone. Run the No.3 WR on the 7 (corner) with two quick, inside breaking routes underneath. You will see this out of different personnel groupings around the league and it designed to beat Cover 1 and Cover 2. One of the top concepts in the red zone.
- The "Smash-7." Another common route concept (same idea as the Flat-7), but the Patriots run this to the closed (or strong) side of the formation. TE Rob Gronkowski will release with a vertical stem, create leverage vs. the DB and then break on the 7 cut. The Smash? That's Hernandez releasing out of the backfield.
- This is why the Patriots (along with the Packers and Saints) are tough to prep for when we talk defensive game plans. They use so many different (and unique) looks, plus they break tendencies. Remember, the route scheme here isn't complicated at all. However, the pre-snap alignment and formation are the key. And we are once again looking at the impact of the TE position in New England.
Follow me on Twitter: @MattBowen41