January 03, 2011 -
Matt Bowen
Breaking down the playoffs
Time to talk playoff football in the NFL. Twelve teams in the post season tournament. Today, let's talk about each squad and give one key reason why they can make a run to Dallas and Super Bowl XLV.
The NFC
1. Atlanta Falcons: Offensive game plan
I am a believer that you win in the post season by running the football to set up your vertical passing game. And that is exactly what we will see from Atlanta. Michael Turner in the downhill running attack and the deep play action route tree from quarterback Matt Ryan. Plus, the Falcons run the ball better than any team in the NFC inside of the red zone. This is a playoff ready offense.
2. Chicago Bears: Special teams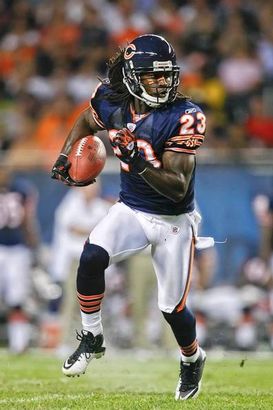 ICONHester and the return game can help the Bears make a Super Bowl run.
Devin Hester and Danieal Manning give the Bears free field position in the return game—and that wins in the post season. We have seen Hester flip the field multiple times this season and what he gives you in the return game is more valuable than your offensive playbook. Think of it this way: Hester and Manning can pick up two first downs for the offense on every return—and that isn't counting their ability to break a return for a score. That is Chicago football under Lovie Smith. Play defense and create field position in the return game.
3. Philadelphia Eagles: Explosive offense
The Eagles are loaded with playmakers—and speed—on offense. We all know that it starts with QB Michael Vick and his ability to take over a football game, but don't forget about DeSean Jackson, Jeremy Maclin and LeSean McCoy. The Eagles' offense under Andy Reid is designed to get the ball to his playmakers on inside breaking routes with open field to work with after the catch. And Philly loves to throw the deep ball. Tough for any defense that plays man coverage.
4. Seattle Seahawks: Marshawn Lynch's production
Has to play like a true first rounder. I understand that Seattle is going to be an underdog at home on Wild Card weekend, but they can compete if Lynch can be productive. We aren't talking about 150-yard game here. Instead, we are looking at the basics: third and short, inside of the red zone and catching the ball out of the backfield. The Seahawks will use multiple backs in their offensive scheme, but if they want to advance, Lynch has to play at a Pro Bowl level for Pete Carroll.
5. New Orleans Saints: Sean Payton's play calling
Yes, the Saints have weapons on offense with Brees, Bush, Colston, etc. But this goes deeper when we talk about Payton's game plans. I don't see a defensive coordinator in the NFC that can match him for four quarters. The Saints will use creativity in their formation alignments where we will see bunch, stack and exotic looks along with their standard 2-back pro sets. I think Payton is the best offensive coach in the game and preparing for New Orleans in a playoff setting will be a challenge.
6. Green Bay Packers: Pressure defense
The Packers have a defense that can carry them to Dallas. That is the easiest way to say it because they will rush the passer and force turnovers. Top to bottom, the Packers have the best secondary in the playoffs and I still haven't seen an offensive tackle that can shut down Clay Matthews in a one-on-one matchup. With Dom Capers calling the defense, they will use multiple blitz looks to get after the quarterback. Remember, defense sells in January.
The AFC
1. New England Patriots: Offensive matchups
New England wants to create favorable matchups. The Patriots as an offense will use multiple personnel groupings and formation alignments until they find what works. They don't give you a chance from a defensive perspective to feel comfortable and the entire time they are looking for matchups that Tom Brady can exploit. Whether that is the TE position, RB Danny Woodhead vs. a linebacker in space or Wes Welker in the underneath combination routes. Give Brady the matchups he wants—and the Patriots will win games.
2. Pittsburgh Steelers: Defensive playmakers
ICONThe Steelers have a defensive playmaker in safety Troy Polamalu.
Two names that should stand out when we talk about the Steelers: Troy Polamalu and James Harrison. These are two of the top football players in the entire league and Dick LeBeau will put them in a position to make plays from a defensive perspective. I do value what Ben Roethlisberger brings to the Pittsburgh offense, but for the Steelers to make a run we have to see Polamalu and Harrison consistently show up on tape—which they will.
3. Indianapolis Colts: Offensive playbook
The Colts are pretty standard from a scheme perspective. We will see two personnel groupings: Ace (2 WR, 2 TE, 1 RB) and Posse (3 WR, I TE, I RB). That's it. The same route schemes (flat-7, 4 verticals, china-dig, options, etc.) along with their standard one-back runs (stretch, outside zone, trap). However, it all goes back to QB Peyton Manning. There is no one better at manipulating a secondary and finding weakness to target. Expect the same playbook we have seen for years in Indy—but also expect results.
4. Kansas City Chiefs: Big plays
Offense, defense and special teams. Think of names such as Jamaal Charles, Dwayne Bowe, Eric Berry, etc. I understand that K.C. can put together a game plan that can control the tempo on offense, but I see a team that needs to score on special teams, take the ball away on defense and find explosive plays (plus-25 yards) from their offensive play makers to make it to Dallas. Can it be done? Why not—the Chiefs have the talent to flip the field at any time.
5. Baltimore Ravens: Offensive line
I do see the Ravens' offensive front as one of the best in football and that translates into running lanes for Ray Rice and time for QB Joe Flacco. We always talk defense when it comes to Baltimore, but I see a team that can put together a run by controlling the clock with the running game and setting up very manageable third down situations where WR Anquan Boldin comes into play. And there isn't a CB that can stick with Boldin for four quarters in the underneath game when he aligns inside.
6. New York Jets: Revis and Cromartie
The two cornerbacks allow Rex Ryan to run his defense. Bring pressure with man coverage in the secondary. Both Revis and Cromartie will play press and off-man coverage, plus they can sit on routes and take chances. And that is exactly what Ryan wants to see—a secondary that challenges receivers on every play. The Jets need to play big on defense and it starts with these two corners—because the entire scheme depends on it.
Stay with the NFP all week for playoff talk as we head into Wild Card weekend.
Follow me on Twitter: MattBowen41