July 29, 2011 -
Matt Bowen
Breaking down what Asomugha brings to Philly
Now that the Eagles have signed free agent CB Nnamdi Asomugha to a 5-year, $60-million dollar deal with $25 million in guaranteed money, let's talk about how this impacts the defense and the secondary in Philly.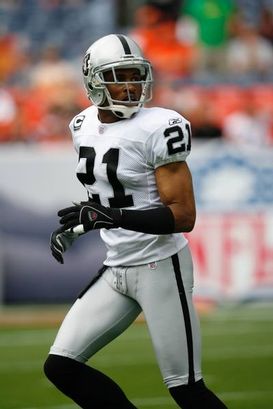 ICONAsomugha will give the Eagles coverage skills and flexibility in the secondary.
- What the Eagles get with Asomugha shouldn't surprise anyone. He brings size, great length and the ability to play both press and off-man coverage. A pure cover corner that can win in Cover 1 (man-free) and Cover 2 (re-routing the WR), plus set the edge in the run game. And when Philly does line up in the regular season, check out his technique—from his stance to the finish. An elite talent that will also provide some flexibility to this defense from an Xs and Os standpoint.
- One of the main aspects of this deal is the value that the NFL places on physical DBs that can cover and drive on the football. All we have to do is look at the offensive schemes in Green Bay, New Orleans, New England, etc. to see where this league is going in terms of game plans. Spread the field, use multiple personnel groupings and work the secondary. The exact reason the Eagles opened up their wallets for Asomugha and picked up Dominique Rodgers-Cromartie in the Kevin Kolb trade on Thursday. Without CBs, you will have a hard time winning in the NFL. Both players allow new defensive coordinator Juan Castillo the opportunity to get aggressive during any situation of the game.
- Where does this leave Asanate Samuel? If Philly can keep all three CBs on the opening day roster (which remains to be seen), they have a sub-package (Nickel defense) that will compete vs. the top offenses in the NFL. Or, put Samuel on the trade market. He would draw plenty of interest and the Eagles could pick up another high draft pick. My take: find a way to go into the regular season with all three CBs knowing that you can match up vs. any personnel you see on Sundays. Let's see what Andy Reid does here.
- Safety play. Don't forget about why this move fills out the entire Eagles secondary. Funnel the ball to the middle of the field and allow your safeties to take some chances—driving hard downhill on any inside breaking routes. I would pay good money to play in the middle of the field with Asomugha aligned outside of the numbers—because it will give the safeties more opportunities to get their hands on the football. And the top-tier CBs (Asomugha, Revis, Bailey, Woodson) always allow safeties to stand out on film.
Follow me on Twitter: MattBowen41