December 08, 2011 -
Matt Bowen
Browns-Steelers: what to watch for
Let's talk Browns-Steelers. Three things I am looking for in tonight's AFC North matchup in Pittsburgh—starting with the Ben Roethlisberger in the red zone.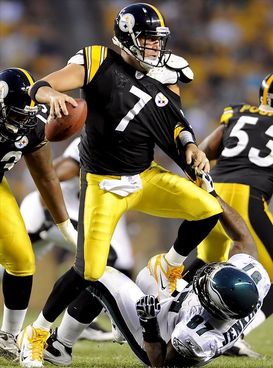 ICONRoethlisberger's ability to extend plays in the pocket can be an issue for the Browns' secondary in the red zone.
1. Roethlisberger in the red zone: Check out the Steelers' offense when they align in an empty formation inside of the 20-yard line. This is where I see Roethlisberegr at his best because of his ability to extend plays in the pocket. And from the perspective of a defensive back, that is a nightmare in coverage. Receivers will convert routes, work back to the QB or sit down in open holes vs. zone coverage. The Browns will have to rush with contain principles, force Roethlisberegr to step up in the pocket and keep receivers in front of them in the secondary. Pittsburgh played efficient football in the red zone this past Sunday in their 35-7 win over the Bengals. Let's see if it continues tonight because of Roethlisberger.
2. Audition time for Colt McCoy: Another opportunity for the QB to put his play on tape and produce in a primetime game for a team that could look to upgrade the position this offseason. McCoy is going to see multiple fronts from Dick LeBeau's defense, both zone and man blitz packages, plus some 2-Man (two-deep, man-under) in the secondary. Getting the ball out, identifying overload pressure and working route schemes inside of the numbers will be key to moving the sticks and putting this offense in a position to score points. Not an easy job vs. the Steelers' defense with a lack of playmakers at the WR position in Cleveland.
3. Mike Wallace's skill set: I see Wallace as the top deep ball threat in the NFL (along with Detroit's Calvin Johnson). The Steelers' WR can eat up a CB's cushion, work the top of Cover 2 and separate when the ball is in the air. Tonight, I am curious to see how the Steelers game plan to get Wallace the football. Look for some deep play action near mid-field and when the Pittsburgh is backed up to give the WR that one-on-one matchup he can exploit outside of the numbers. I don't think Wallace gets the respect he deserves as a true No.1 WR and if you haven't seen him play much this season, check him out. Legit vertical speed and the ability to produce after the catch.
Follow me on Twitter: @MattBowen41