September 01, 2011 -
Matt Bowen
Bruschi's comments on Foster remind us the NFL isn't pretty
Former NFL linebacker Tedy Bruschi, speaking on ESPN radio, reminded us that the NFL isn't always as pretty as it looks on paper. And when you are a defensive player in this league, going after a guy that has an injury (one that is public knowledge), is part of the game.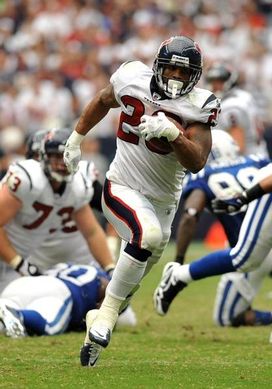 ICONFoster's hamstring injury continues to get play on a daily basis around the NFL.
Bruschi discussed the hamstring injury of the Texans Arian Foster. We all know the story there after the RB pulled up for the second time in the month of August—and then proceeded to post a picture of a MRI on his Twitter account.
And the former Patriot spoke up, telling us how he would approach Foster on the field. Here's what he said (via Pro Football Talk): "As a defensive player, if this is his hamstring, noting that the sore spot — the white spot that he calls anti-awesomeness — is in the middle of the hamstring, as I'm getting off of a pile, maybe I push. Maybe that's where I push. Because I know that's exactly where it is. I give it a little dig, I give it a little twist as I get off the pile. Maybe I do that."
I'll be honest, because what Bruschi is saying is nothing new to defensive meeting rooms across the NFL. Players aren't necessarily coached (or instructed) to go after an injured player, but let's not be naive here.
It happens—often—on Sundays.
A knee, an ankle, a QB with bruised ribs, etc. Once a defensive player sees a guy's name on the injury report, that specific area becomes a target on the field.
And we are again reminded that you never quite see the full story when you sit down to watch a game. Because it can get a little dirty out there.
Follow me on Twitter: MattBowen41