July 23, 2010 -
Matt Bowen
Bryant's deal provides competition in Dallas
How about Dez Bryant and the Cowboys striking a deal as the club heads into training camp? According to the NFP's Aaron Wilson, the contract is worth up to $11.8 million and it allows the WR to compete for playing time—immediately.
Starting this weekend, the rookie from Oklahoma State can compete with veteran Roy Williams and go after his job.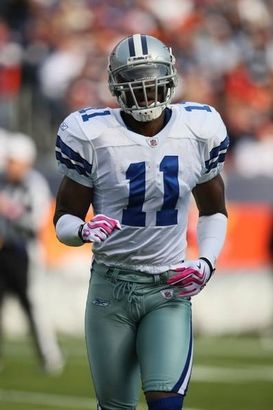 ICONWilliams will have to hold off Bryant throughout training camp.
Let's be honest here, because Dallas didn't trade up in the first-round to get a WR to sit and watch. They expect him to produce as a rookie, and they expect him to eventually take Williams' spot. In fact, the veteran is on borrowed time right now in Dallas and he will need a strong camp himself to hold off the rookie.
Could we see Bryant moving ahead of Williams on the depth chart by September? Maybe, as we know the overall skills are there. But just like any rookie WR, Bryant will struggle to adapt to the speed of NFL defenses, the coverage schemes and the ability of pro defensive backs. How will he respond to press coverage (something he didn't see a lot in the Big 12), the everyday marathon that is the NFL training camp, a bad practice, etc.?
We will get to see all of that unfold over the month of August. By getting the deal done, Bryant has those opportunities to learn the pro game and use the practice time and the preseason games as a learning tool.
Too often (as we will see in the coming weeks) first-round picks sit at home and miss crucial time on the field and in the meeting room. Miss three days and we are talking up to six practices and hours in the film room watching tape. As a rookie, you need that time to see your mistakes and correct them on the field the next day.
Training camp is a long process first time you go through it. Days start to run together and the physical and mental abuse you put on your body is enormous. But that is why you want to see your first-round pick in pads and in those meetings. In Dallas, Bryant will have the chance to earn the respect of the veteran players on that team and to build a solid relationship with QB Tony Romo on the field.
Smart play by the Cowboys and Bryant. It is all about football now. Let's see what the rookie can do.
Ready for fantasy football? Click here to purchase the Total Access Pass/ Draft Guide from the NFP.
Follow me on Twitter: MattBowen41