February 15, 2011 -
Matt Bowen
Bucs' Freeman has the right idea in the case of a lockout
Tampa QB Josh Freeman has already been in contact with his wide receivers and plans to host his own offseason workouts in case of an NFL lockout, according to the Tampa Tribune.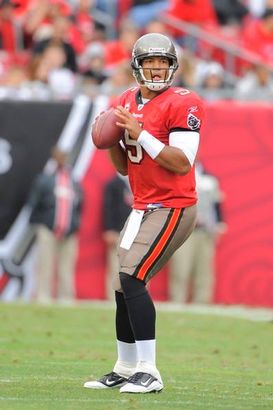 ICONTampa's Josh Freeman.
Smart idea, because without an offseason players will suffer. That's the easiest way I can say it. I understand that we hear about mini-camp "all-Americans" every May and June. I saw them myself during my own career. Unknown players that would make plays (daily) and stand out in shorts—only to vanish once the pads were put on in August.
However, the offseason period in the NFL is more than just OTAs and weekend mini-camps. It is the ideal time to work on your technique, your skills as a player.
There is no time for that during the regular season and even in training camp, individual periods for specific positions don't last long enough. Team work, 7-on-7 and inside run drill (9-on-7) take priority as you prepare for the regular season while the coaching staff trims the roster.
Not in March, April, May and early June. That is the time you focus on your footwork, hands, eyes, etc. Plus, we can't forget the importance on what players do in the weight room and in conditioning/ speed training out on the field.
With a lockout, that is all gone, unless the players take the responsibility to workout—together. Sure, there will be guys that fall behind, take a lazy approach to a lockout. And their skills will take a major hit.
You will hear players bitch about coming back to the facility in March. Happens every year. Leave Florida, Arizona and so on to come back north and start watching tape, lifting and doing conditioning that will test you daily. But most veterans understand its importance. Build your core strength for the season and start working on your weakness on the field.
<p> That has to be done. And I would bet that more players, like Freeman, start to organize their own workouts. Get it done and come back ready to work once the NFL opens their doors again if we wake up on March 4th with no new deal in place.
Follow me on Twitter: MattBowen41