October 02, 2011 -
Matt Bowen
Calvin Johnson in the red zone? Good luck…
Now that I've had the chance to check out Calvin Johnson's two TD receptions vs. the Cowboys, let's talk technique, the fade route and why the Lions' WR proved (again) that he is the No.1 weapon in the NFL after Detroit's 34-30 win in Dallas.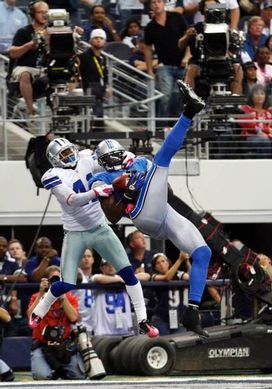 ICONJohnson beat Newman on the fade route to give the Lions the 34-30 win.
- The jump ball? That's exactly what we saw on Stafford's 23-yard TD pass to Johnson. However, think about it from the perspective of a QB. When you have a unique talent like Johnson, you give him the opportunities to go and make a play for you. Three Cowboys' defenders in the back of the end zone on this play, and if it weren't Johnson running the route, I would expect Stafford to throw the check down. Instead, the Lions' QB gives him a shot—because Johnson can take the ball away from any DB in the NFL.
- The goal line fade route to win it for Detroit. Going back to Week 1, I broke down C.J. running the one-step fade for a TD vs. the Bucs. But that was vs. press-man. Here, the Cowboys' Terence Newman aligns in an off-position, playing for the fade. I don't know if I would coach that technique (can give up an easy slant route from that alignment), however, Newman takes the proper cut-off angle and is in a solid position to play the ball. What do we see? Johnson goes up and makes the play. Again, you can change up the technique all you want, but until a DB shows us that he can shut down the Lions' WR inside of the 5-yard line, this play will continue to lead to points for Detroit.
Up next? The 4-0 Lions host the Bears on Monday Night Football in Week 5. Cover 2 out in the field for Lovie Smith's defense (which I like vs. C.J.). But on the goal line? Another matchup advantage for the Lions and Johnson vs. the Chicago CBs. Eight TDs on the season already for "Megatron," and I think we will see some more.
Follow me on Twitter: MattBowen41