August 03, 2010 -
Matt Bowen
Camp notes: Packers
On Monday, I headed up to Green Bay with the NFP's Greg Gabriel to check in on the Packers' training camp. Head coach Mike McCarthy's practice script was heavy in red zone work and focused on pressure in the blitz periods. While we can't judge an NFL team by one practice in August, here are some of my observations of what I saw on the field…
Woodson's technique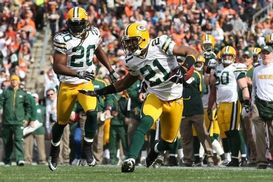 ICONWoodson's technique looks natural on the practice field.
Watching Woodson practice reminded me a lot of my former teammate in Washington, Champ Bailey, because he has the unique ability to make drills look effortless. He glides in his backpedal, has solid footwork and looks natural coming out of his breaks. But, Woodson is at his best when he aligns inside in the Packers' defensive sub packages. The '09 DPOY is very good with his hands at the point of attack, and is the ideal DB to play over the slot when the Packers bring pressure. Fun to watch Woodson in blitz periods during practice—because he is always looking to make a play.
Offensive formations
Plenty of creativity from the Packer offense during 7-on-7. Both the first and the second units under Aaron Rodgers and Matt Flynn used empty sets, bunch looks, pre-snap movement, etc. Basically, spread the field and run various route combinations. With the amount of talent Green Bay has at the offensive skill positions, expect to see plenty of this during the regular season. It can look like playground football at times, but when you can align in creative formations, you get to draw the matchups you are looking for from an offensive perspective.
Burnett at safety
Morgan Burnett, the rookie safety from Georgia Tech, impressed me. I'm not going to say he has arrived in the first week of camp (and he did give up a play yesterday), but with Atari Bigby out, he is running with the first unit on defense. During blitz periods, he looked relaxed with his footwork—uncommon for a rookie in his first training camp—can drive on the throw and has enough speed to run with WRs. From what I hear, he has natural ball instincts, and although he isn't a big hitter, he brings some cornerback experience with him for Tech. Something that is ideal in today's NFL when coordinators are looking for safeties that have cover skills. Interested to see how he handles the preseason schedule where he is put into some real game situations. Should be a starter at some point this season. Maybe on opening day.
Rodgers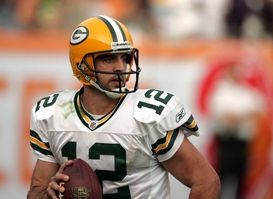 ICONGreen Bay's Aaron Rodgers.
Not the best day for QB Aaron Rodgers, but we can say that about the entire offense. As with any camp practice, one side of the ball usually shows up more on film—and on Monday it was the defense. But, even in saying that, you can still see the skills that Rodgers has with the football. He did connect on some throws in the red zone period, made some plays against pressure and has good velocity on the ball. But, overall this day belonged to the defense in my opinion—even during two-minute work at the end of practice.
Red Zone one-on-one
Watching the WRs and DBs compete in one-on-one drills is always great to watch from a technique perspective in the red zone. The throws have to come quick and the WRs have to run their routes with the correct depth due to the lack of field to work with. On Monday, the DBs used off-man technique and had to deal with multiple double moves. Good work for both sides and very competitive.
McCarthy's Tempo
This was a long practice for camp standards. Green Bay had two practices on Sunday, so with only one session on Monday there was a lot of time spent on run fits, scheme reviews and the kicking game. The attention to detail was impressive by both sides of the ball, and when McCarthy did turn up the tempo in the red zone periods we got to see the players set their pads. Lots of mental work and a good pace when the head coach let them compete. Some good hitting out there.
Blitz Periods
Dom Capers' defense looked good yesterday—especially in the blitz periods. Interesting from my perspective were the multiple blitz schemes they used. The "Corner Cat" (CB blitz), zone blitzes, man perssures, etc. They do a great job of holding their looks before the snap, and when you have an athletic LB group like the Packers, it is easy to create pressure from that 3-4 front. Impressive. Should be a challenge for opposing offenses to prepare for the amount of pressure they could see on Sundays this season.
Quick Hits...
TE Jermicahel Finley was aligned all over the field. I wouldn't want to draw this matchup as a safety. Tall, long arms and a good burst off of the line. Do you play press or off-man coverage against him?
I'm excited to watch B.J. Raji at the Nose this season under Capers. If he can improve on using his hands at the point of attack, he will be much more productive.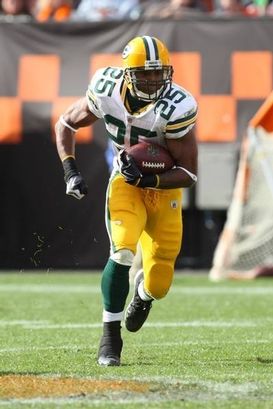 ICONPackers RB Ryan Grant looked explosive.
RB Ryan Grant looks explosive coming downhill out of the backfield. He was solid running out of the gun, and in the Packers' Counter OF scheme (guard pull, fullback kick out weak). Saw some burst out of those legs—and he finished runs.
Rookie DE Mike Neal from Purdue looks like an athlete and a player that lives in the weight room. Interested to see how he handles playing the DE in the 3-4 scheme, but he looks the part.
How about Donald Driver at WR? I played with Donald in Green Bay back in the 2001-2002 seasons, and he still has that burst off of the line of scrimmage. Lots of talk about Jordy Nelson around the field on Monday, but that separation speed for Driver is still there.
All three top draft picks for the Packers, OT Brian Bulaga (who is going to be a player in this league) Neal and Burnett, have had a real professional approach to training camp from what I hear.
A shout out to my former teammate, OT Mark Tauscher. I was able to catch up with Tausch after practice, and he is still getting it done going into his 11th season as a pro.
Today, I am heading to Bears Training Camp down in Bourbonnais, IL to check out Lovie Smith's squad. Follow me on Twitter @MattBowen41 where I will post updates from practice.
Ready for fantasy football? Click here to purchase the Total Access Pass/ Draft Guide from the NFP.