January 17, 2013 -
Matt Bowen
Can Chip Kelly get it done in Philadelphia?
I wrote a post here at the NFP a couple of a weeks ago on Chip Kelly and the NFL interest in the Oregon head coach. That was easy to see even before the Ducks beat up on Kansas State in the Fiesta Bowl with their fast-break style of offense.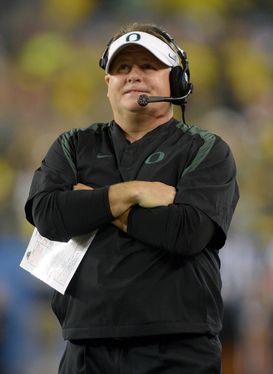 US PRESSWIREChip Kelly landed the head job in Philadelphia on Wednesday.
Hey, the majority of teams in the NFL searching for a coach this offseason pointed their finger at the offensive side of the ball. Play fast, score points, be creative, etc., etc.
Philly finally landed Kelly on Wednesday. A big move. A splash move, really, as the NFP's Joe Fortenbaugh wrote. A hire that got everyone talking before the Manti Te'o story turned Twitter into a circus in the afternoon.
I'm sure Kelly will adjust and adapt his offensive scheme to fit pro personnel when he begins to install the playbook this offseason. That's understandable. And we still have to wait for the decisions on Michael Vick, Nick Foles and the quarterback position for the Eagles.
Another aspect to keep an eye on during Kelly's transition to the pro game.
The offense could be tough to prep for (think of the formations and alignments Kelly can roll out on the field) and it will carry that same pace and tempo we see from the Patriots.
However, will the players buy into his coaching?
That's the drill for every new coach in the NFL. I even hit on with the Bears and Marc Trestman in my column over at the Chicago Tribune today. These coaches have to sell the players on a new system of learning, accountability, discipline and so on.
That will be a test for Kelly coming from the college game.
Look at Steve Spurrier in Washington. I wasn't there for his first season as the head coach for the Redskins, but I saw it up close after signing as a free agent back in 2003 in Spurrier's second (and final) year in the NFL.
I liked playing for Spurrier. He cared about his players. But something was missing. Something just wasn't there in terms of getting the most out of the pro talent.
Smart when it comes to offensive football? Sure, that was Spurrier. He knew how to script an offensive playbook.
However, there wasn't a connection between the locker room and the head coach. The discipline lacked towards the end of that season and Spurrier was back in the SEC before you knew it.
Xs and Os with Kelly won't be an issue. He will develop an offense in Philly. Now let's find out if he can run the show in the pros.