July 24, 2010 -
Matt Bowen
Can Clausen give Carolina competition at QB?
One of my favorite things about training camp in the NFL is watching rookies. How do they practice? Do they have a role from day one? Can they compete over the course of six weeks, stay healthy and make a real impression on the veteran players on the roster?
Of those rookies — the high-profile ones who bring a big resume to the league — Panthers QB Jimmy Clausen stands out to me. There were so many mixed reviews on the former Irish QB leading up to the draft in terms of his ability and perceived arrogance on the field that mean little now as we roll into the month of August. That is just draft talk, which carries no weight in August. Just like I talked about yesterday with Dez Bryant, once you hit the field it is all about football.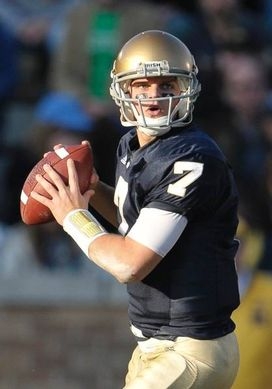 ICONFormer Irish QB, Jimmy Clausen, can provide a competitive setting for Matt Moore in Carolina.
Understandably, Clausen isn't discussed on the same level when compared with Sam Bradford of the Rams. The rookie from Oklahoma is still unsigned in late July and is the No. 1 overall pick of the draft. He will be a hot topic until he shows up in St. Louis with a new contract in hand.
However, don't let that blind us on Clausen's importance in Panthers camp. Matt Moore should be the No. 1 when the club kicks off practice and I would expect that to last into the regular season. It is tough for any rookie to win a staring job in this league (that isn't handed to them), and at the QB position, it takes time to really understand how this game works at the NFL level.
But, let's be honest when it comes to Moore. He hasn't "arrived" by any standards in the NFL. I was a fan of what he did when he stepped in for former starter Jake Delhomme at the end of the '09 season, but to say that he is a definite No. 1 in the NFL is a little rushed. Solid young QB, but still some questions to answer.
Having Clausen in camp forces the issue with Moore. He needs to see competition and he needs to be pushed by a younger QB. As a coaching staff, you want competition at every position, and unless you have a franchise-level talent at QB, the more capable pro arms the better.
Can Clausen realistically steal the job from Moore? Probably not, but with four young QBs in camp (when we add Hunter Cantwell and Tony Pike to the mix) you want to see which one stands out. That is why you practice. Let the rookie from Notre Dame make mistakes and let him battle for a job. It only makes the position stronger in Carolina.
Ready for fantasy football? Click here to purchase the Total Access Pass/ Draft Guide from the NFP.
Follow me on Twitter: MattBowen41