June 13, 2012 -
Matt Bowen
Can Conte develop as a playmaker for Bears?
The Bears need two things from the free safety position in 2012: consistency and play making ability. And I'm thinking they can get both from second-year pro Chris Conte.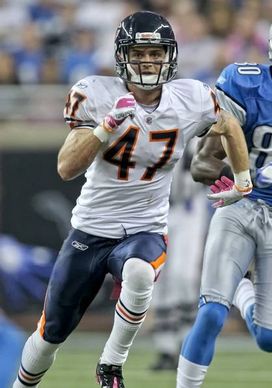 ICONThe Bears need safety Chris Conte to develop as a playmaker in their defensive scheme.
I was up at Halas Hall on Tuesday for Bears mini-camp. A good practice session to take in with blitz period, some DB vs. WR one-on-ones, 7-on-7 and team drills. I wrote up some notes on Mike Tice's new offense in the Chicago Tribune, plus I had an opportunity to check out the secondary.
And when we talk about this unit under Lovie Smith, here's a quick crash course in the Bears defensive game plan:
- Cover 2 (Tampa 2)
- Cover 3 (3-deep, 4-under)
- Cover 1 (man-free)/ Under 10 (weak side man)
- Zone/Man pressure (base and nickel sub package)
Looking at those base schemes, the free safety is key to production. Playing the deep middle of the field, working off the numbers in Cover 2, dropping down to the "seam-flat" technique in zone pressure, etc.
And watching Conte practice, the Bears have a safety that displays good footwork and moves like a corner. He has range from the middle of the field, solid recovery speed and will close on the ball playing from an outside leverage position in man-coverage.
Conte started nine games for the Bears last season and I expect him to make the 'jump' in his second season, improve his angles to the ball, become a more physical player and make sound, fundamental tackles in the open field. That's what you get from a consistent football player in the secondary.
But it still goes back to play making ability. Drive on the throw; break on the 7 (corner) route in Cover 2, force turnovers. The Bears must get that from Conte. And I'm eager to watch him play and develop this year.
Follow me on Twitter: @MattBowen41