November 09, 2010 -
Matt Bowen
Can Garrett win in Dallas?
No better time to make a coaching change in Dallas after taking a 45-7 beating in front of a national audience on Sunday night at Lambeau Field. Sitting with a record of 1-7, owner Jerry Jones had no choice. Make the move to fire Wade Phillips now and give the keys to this team over to offensive coordinator Jason Garrett.
With Phillips, this move probably should have been made this past offseason. But, now the Cowboys have to live with the fact that they look like a team that has completely packed it in. Garrett's job is to change that.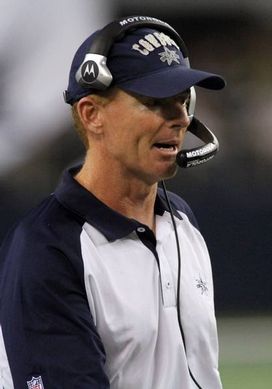 ICONWill Garrett get the Cowboys locker room to buy into his coaching?
Everything from the way the Cowboys practice, their game week prep in the meeting rooms, schedules and even how they dress for road trips on the plane. The culture, the identity of this Dallas team has to be re-shaped—in the middle of the season.
Not an easy job with professional players and professional egos. But, this is a major opportunity for Garrett. Call it an on the field interview, because that is exactly what it is. This isn't a playoff team. No doubt about that. Instead, Garrett has to show owner Jerry Jones that he is more than just a coach with an "interim tag."
We know the names that are going to be on the coaching market. Big names. Bill Cowher, Jon Gruden, most likely John Fox once he is given the boot from Carolina, and coordinators like the Saints' Gregg Williams. Jones has more money than anyone in the league, and we could see a situation where he tosses millions to bring in that sexy name. Part of coaching for the team that has the big stadium and that star on the side of that helmet.
I have been a part of coaching changes in this league, but not in mid-season. But, that still doesn't hide the fact that Garrett's No.1 job is to get his players to buy into his coaching philosophy and his rules. Not as easy as one would think. He isn't in charge of the offense or just calling plays anymore. His focus has to shift; as does the way he treats each and every player on that team—because they all will be watching.
Pro players are sensitive—and spoiled to a degree. I have no problem admitting that. And it is the head coaches job to build that team, form that chemistry and get his team to play good, disciplined football on Sunday with the same goals in mind. The right head coach can make a team come together and perform each and every Sunday throughout the season. We aren't talking being a "player's coach," as that has already failed with Phillips. This is about winning games--and the head coach shouldn't be the player's "buddy."
Right now, we are talking about Garrett taking advantage of this opportunity (that the rest of the league will be watching), coaching these players hard and producing wins. Because winning sells to Jones and could give Garrett a true head job next year in Dallas--or somewhere else in the league—that isn't a glorified try-out.
Follow me on Twitter: MattBowen41