December 29, 2010 -
Matt Bowen
Can Joe Webb be the future for the Vikings?
Joe Webb outplayed Michael Vick last night in the Vikings' 24-14 win. That is the best way I can say it. He looked calm in the pocket, made some big time plays with his feet and had control of the offense. I didn't see a quarterback that was working with a shortened game plan or a player that was being protected by simple, basic calls.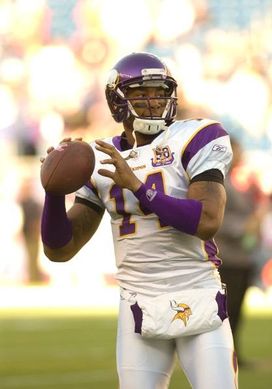 ICONRookie QB Joe Webb made some plays in the win over the Eagles.
Instead, head coach Leslie Frazier let the rookie play—and that is the best way to find out what you have in a young player. A primetime setting against a playoff bound football team from Philly. And he responded. Webb completed 17 of 26 passes for 195-yards—and no turnovers. On top of that, he ran the ball six times for 31-yards with a TD run that looked like something we would see from, well, Vick.
But, let's go back to last Monday night in the blowout loss at TCF Bank Stadium to the NFC North champion Chicago Bears. Webb looked shaky, played like a nervous rookie and had those mistakes that we attribute to a player who comes off the bench with little or no experience in his back pocket. He didn't produce like a quarterback that you can work with in the offseason.
However, watching him last night, he made improvements, took care of the ball and handled the atmosphere against a quality football team. Not easy to do—and that is what the Vikings wanted to see. Very similar to the Tim Tebow talk out in Denver. You want the young quarterback to take bigger steps each week—and make the necessary corrections on the field.
Now, the question for Minnesota becomes relevant: is he the guy for the future? Obviously, there is a lot of change possible at the head coaching position for the Vikings if Frazier is not retained. But, if he is back on the sidelines in 2011 (which I would agree with), Minnesota has a player they can work with starting in late March.
Yes, he needs that game this week at Detroit. Game experience is crucial. And no matter what the status is of Brett Favre, the veteran should be the one holding the clipboard this Sunday. It is time to move on in Minnesota—and Webb just might be that guy for the future. He sure played like it in Philly.
Follow me on Twitter: MattBowen41