November 15, 2011 -
Matt Bowen
Can Leinart be 'the guy' for the Texans?
When we woke up on Monday, it was easy to call the Texans the favorites in the AFC South and a team to watch once playoff football kicks off in January.
Today? Some questions to ask after reports surfaced that starting QB Matt Schaub is expected to miss the remainder of the 2011 season with a foot injury.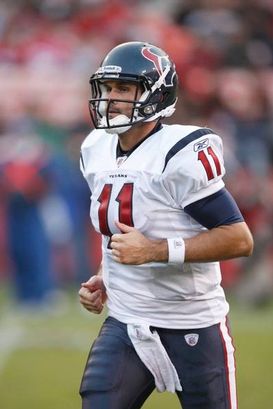 ICONLeinart will take over the Texans' offense with Schaub out of the for the season.
And now its time to hand the keys over to former first-round pick Matt Leinart.
I have a lot of respect for what the Texans have done through ten weeks this season. A 7-3 club that has battled through multiple injuries to key players. Arian Foster has missed time, the team is still waiting for the return of Andre Johnson (the top WR in the game) and Mario Williams is done—for the season.
However, Wade Phillips (and his new scheme) have the Texans playing top tier football on defense. And on offense, I watched Houston adapt their play calling without Johnson, lean heavy on the run game and take some shots down the field off of play action.
But that was with Schaub running the show.
Now? We get to see what the Texans have when they come off the bye in Week 12 and travel to Jacksonville. Two weeks for Leinart to run with the first unit in practice and prep for the Jags as a starter.
This isn't a QB off the street or a waiver wire pickup. Leinart knows the system, the receivers, the route concepts, etc. There shouldn't be any concern about his ability to handle the game plan put in front of him on game day.
That's not the issue here—but the production is.
It is very easy for us to say the Texans can rely on Foster's numbers, the defense forcing turnovers or special teams. Sounds good and looks good as Houston heads into the off week.
But that's not good enough if the Texans want to win this division and become a legit player when the playoff talk heats up after Thanksgiving. Leinart will have to make the throws in crucial situations (think 3rd downs, red zone, two minute), move the sticks and protect the ball.
More importantly, he has to play with some consistency and produce in big games.
This is a major opportunity for Leinart to jump-start his career again. Reduced to a backup role after being ushered out of Arizona, the QB was a forgotten player. That's pretty normal when we see former top picks fail to produce and try and catch on somewhere else in the NFL.
And we get to watch it unfold starting next Sunday. Lets see if the Texans are still that team no one wants to play when the tournament starts in January.
Follow me on Twitter: @MattBowen41