June 01, 2011 -
Matt Bowen
Can Leshoure be the 4th quarter answer for Lions?
Every training camp during my career in the NFL we would spend time on "four-minute offense." A drill in full pads where the offense is protecting a fourth quarter lead and trying to milk the clock.
A physical aspect of camp, because you knew where the ball was going: downhill. Nowhere to hide during an afternoon practice in the heat. Time to hit at full speed.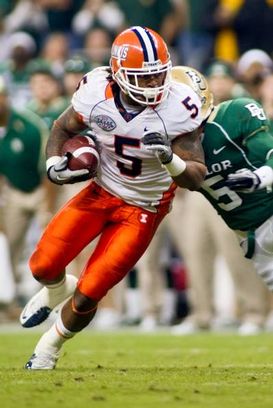 ICONCan rookie Mikel Leshoure produce in the 4th quarter for the Lions this season?
However, you need to have a back—one that will break tackles and move the sticks—to produce on Sundays in the final four minutes of the game.
And according to Jim Schwartz (via the Detroit News and Pro Football Talk), rookie Mikel Leshoure is that back for the Lions, adding, "Jahvid Best, when healthy, proved that he can be an explosive playmaker. But he isn't built to be a short-yardage back when there's three minutes left in the game and you're protecting a seven-point lead, but Leshoure is."
From my experiences in this league, it is essential to have a running back that will close out a ballgame on Sunday. Every playoff team I was a part could put the game plan in their hands. Marshall Faulk in St. Louis, Ahman Green in Green Bay and Clinton Portis in Washington.
Accountable players that would get downhill in the off-tackle running schemes (Power O, Lead Strong, Counter OF, etc.) and produce.
Because there is no worse feeling as a defensive player when you have to go back on the field after the offense stalls out with a 4-point lead in the final minutes of a game.
Now, can a rookie be that player for Schwartz and the Lions? In reality, he has to. Schwartz mentioned Best as an "explosive playmaker," which is true. But he is also an edge runner that isn't going to grind out eight carries in a row to run the clock down.
And I don't see any reason why Leshoure can't handle the load in the fourth quarter on Sundays this fall. Remember, we are talking about a RB that had a first-round grade for some teams. The next question is simple: will Detroit be in these situations, protecting a lead and consistently winning in 2011?
Why not? This is a team that should be in the mix for the NFC North race.
Follow me on Twitter: MattBowen41