August 30, 2011 -
Matt Bowen
Can Maybin do enough to impress Rex vs. Eagles?
There will be hundreds of players fighting for an opening day roster spots starting Thursday night when preseason action kicks off for the final time this summer.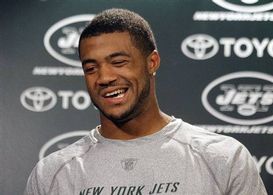 Maybin's time with the Jets could be up if he doesn't make some big plays vs. Philly.
Special teams (something I will discuss soon at the NFP) will take center stage and "bubble players" will get to see some live action when the starters shut it down after a couple of plays.
One of those "bubble guys" is the Jets' Aaron Maybin. According to a Tweet from Manish Mehta (via Gregg Rosenthal over at Pro Football Talk), Rex Ryan said the LB "is going to have to do more" to make the club.
From my perspective as an ex-player, this is the head coach telling us that he hasn't seen enough in practice (or in last week's game) to find a role for Maybin on the Jets roster. There isn't that "flash" on certain plays where he jumps off the film or situations in practice where you see a linebacker you can't win without.
Maybin is just a guy—and he might get cut (again) unless he makes some really big plays in the preseason finale vs. the Eagles.
Just yesterday, I wrote a post on Vernon Gholston. A former first-round pick that didn't even make it to the final cuts with the Bears after his release yesterday.
Both these players will receiver more attention from our point of view because of where they were drafted. However, these are just a couple of names in a long list that will be out of work come this weekend.
And if you are a "bubble" player right now, you better bring something special to the stadium on Thursday. Because the cuts will come fast and this league has no problem showing you the door.
Follow me on Twitter: MattBowen41